I've had a delightful time in the beautiful state of Maine, having adventures, looking for whales, and seeing some amazing birds.
One of the things I really wanted to do while in Maine was to visit the Coastal Maine Botanical Garden, which I had heard very good reviews of and wanted to see it for myself.
I have to say, I'm not usually a big fan of botanic gardens because they usually feel like just a competition to have the most species of unrelated plants from all over the world in one place, kind of like animals in a zoo, as if one wins when they have the most specimens.
I'm a much bigger fan of learning about plant communities and how they fit into the ecosystem and how they operate together to support wildlife.
And I have to say, I was very pleasantly surprised with my visit to the Coastal Maine Botanical Garden. It seems like they've made a priority of preserving the native plant communities of this coastal ecosystem, and while they do have exotic plants, they have made an attempt to place them in natural looking settings.
The Children's Garden here is quite special, and I'm a big advocate of any organization that is so devoted to getting children outside in nature to learn and explore. Our hope for the future of the earth is dependent on raising the next generation of stewards, environmentalists, scientists, and naturalists.
And the Coastal Maine Botanical Garden has done a really good job of creating a place for budding naturalists to grow.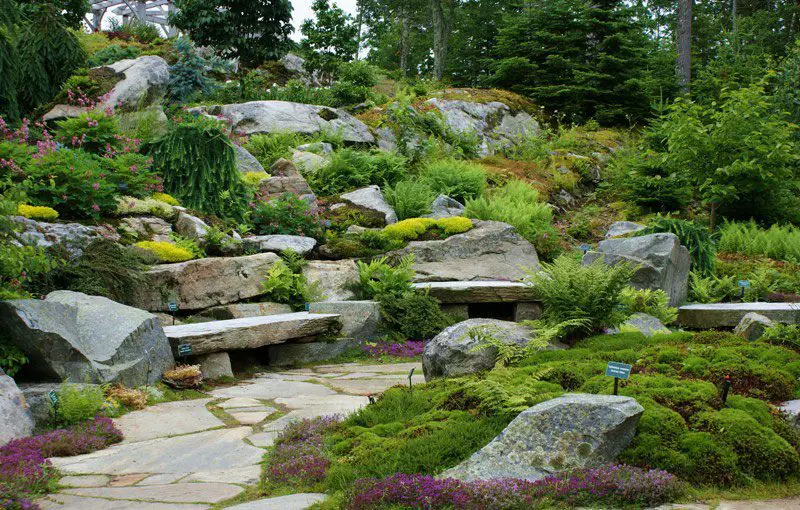 Ferns and Wildflowers in natural setting at Coastal Maine Botanical Garden
I did discover something about myself, though. When I look for inspiration for my garden, I take my cues from the natural areas around me. And I am definitely a child of the woods. The woods are my special place, and that is where I turn for solace and inspiration.
If I had to choose between visiting the woods or a botanic garden, I would choose the woods. Lucky for me on this day, I was able to have both!
Either way, the Coastal Maine Botanical Garden is a pretty cool place to visit if you're a fan of nature and gardening. Here's what you need to know:
Location: The garden is located in Boothbay, Maine, and is surrounded by stunning coastal scenery. It's a great spot to take in the beauty of the Maine coastline while enjoying some time in a lush, green oasis.
Size: The garden covers about 295 acres, so there's plenty of space to explore and enjoy.
Gardens: The garden features a wide variety of gardens and habitats, including formal gardens, woodland gardens, rock gardens, and more. You'll find everything from beautiful flowers and ornamental shrubs to native plants and wildlife habitats.
Trails: The garden has a network of trails that wind through its different habitats, providing plenty of opportunities to get up close and personal with nature.
Events: The garden hosts a variety of events throughout the year, including workshops, lectures, and guided walks. There's always something happening, so check the schedule before you visit.
Accessibility: The garden is designed to be accessible to visitors of all ages and abilities, with ramps, boardwalks, and accessible trails.
Average rating:
0 reviews