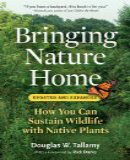 There are so many excellent books about gardening with native plants, and if you're like me, you're always eager to learn more. So I've put together a wishlist of books about Native Plants for North America for your reading pleasure.
We've got books about why native plants are so important, landscaping with native plants, creating wildlife habitat with native plants, gardening for birds, creating a butterfly garden, and gardening for native pollinators.
If you have a favorite book about native plants that's not listed here, please leave a comment below and tell us all about it.
Native Plant Books for North America
Why Native Plants Matter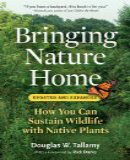 Bringing Nature Home: How You Can Sustain Wildlife with Native Plants, Updated and Expanded, by Doug Tallamy
As development and subsequent habitat destruction accelerate, there are increasing pressures on wildlife populations. But there is an important and simple step toward reversing this alarming trend: Everyone with access to a patch of earth can make a significant contribution toward sustaining biodiversity.
There is an unbreakable link between native plant species and native wildlife — native insects cannot, or will not, eat alien plants. When native plants disappear, the insects disappear, impoverishing the food source for birds and other animals. In many parts of the world, habitat destruction has been so extensive that local wildlife is in crisis and may be headed toward extinction.
Bringing Nature Home has sparked a national conversation about the link between healthy local ecosystems and human well-being, and the new paperback edition — with an expanded resource section and updated photos — will help broaden the movement. By acting on Douglas Tallamy's practical recommendations, everyone can make a difference.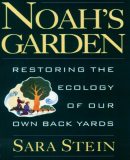 Noah's Garden: Restoring the Ecology of Our Own Backyards, by Sara Stein
Published to rave reviews in 1993, Noah's Garden shows us how our landscape style of neat yards and gardens has devastated suburban ecology, wiping out entire communities of plants and animals by stripping bare their habitats and destroying their food supplies. When Stein realized what her intensive efforts at making a traditional garden had done, she set out to "ungarden." Her book interweaves an account of her efforts with an explanation of the ecology of gardens. Noah's Garden has become the bible of the new environmental gardening movement, and the author is one of its most popular spokespersons.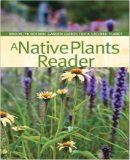 A Native Plants Reader, by Niall Dunne
A Native Plants Reader is a departure from the typical BBG handbook. Rather than offering a toolkit of growing tips and practical instructions, this book presents a collection of narratives extolling the virtues of natives, outlining their fundamental contributions to our natural ecosystems, detailing our connections with them, describing the perils they currently face, and advocating for their preservation in the garden and larger landscape. Chock-full of adventures and insights from scientists, gardeners, and writers working in the trenches with native plants, the essays are designed to address and engage both gardeners and nongardening nature lovers alike.
Landscaping With Native Plants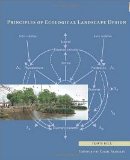 Principles of Ecological Landscape Design, by Travis Beck and Carol Franklin
Today, there is a growing demand for designed landscapes—from public parks to backyards—to be not only beautiful and functional, but also sustainable. Sustainability means more than just saving energy and resources. It requires integrating the landscapes we design with ecological systems. With Principles of Ecological Landscape Design, Travis Beck gives professionals and students the first book to translate the science of ecology into design practice.
This groundbreaking work explains key ecological concepts and their application to the design and management of sustainable landscapes. It covers biogeography and plant selection, assembling plant communities, competition and coexistence, designing ecosystems, materials cycling and soil ecology, plant-animal interactions, biodiversity and stability, disturbance and succession, landscape ecology, and global change. Beck draws on real world cases where professionals have put ecological principles to use in the built landscape.
Urban and Suburban Meadows: Bringing Meadowscaping to Big and Small Spaces, by Catherine Zimmerman
Urban & Suburban Meadows, Bringing Meadowscaping to Big and Small Spaces is an enticing introduction to meadowscaping. Author and photographer, Catherine Zimmerman, combines her expertise in photography, storytelling, environmental issues, horticulture and organic practices to offer meadowscaping as an alternative to reduce monoculture lawns. Zimmerman crafts a guide that provides step-by-step instructions on organically creating and maintaining beautiful meadow gardens. Four experts in meadow establishment lend their knowledge for site preparation, design, native plants, planting and maintenance. The book provides plant lists and resource sections for nine regions across the United States along with local sources to assist the meadow creator in bringing diversity back to urban and suburban landscapes. Meadows can be big or small, short or tall. However large, the benefits are great. Meadows sequester carbon, retain water, filter pollutants, eliminate the need for fertilizers or pesticides and provide habitat for wildlife. Reduce your carbon footprint. Improve your neighborhood. Enjoy a meadow in your backyard! Now available, the 60-minute companion video!
Urban and Suburban Meadows Companion DVD, by Catherine Zimmerman
With Doug Tallamy,the DVD version of Urban & Suburban Meadows, Bringing Meadowscaping to Big and Small Spaces brings into focus the amazing diversity of life inhabiting meadows and prairies and the beautiful imagery inspires meadow and prairie creation! With over 48 million acres of lawn in the U.S., this video, directed by author and photographer Catherine Zimmerman, is aimed at helping people just say NO to thirsty, pesticide ridden, energy consuming lawns. The 60-minute video is formatted to play in it s entirety or the viewer can click on individual chapters with meadow experts Michael Nadeau, Larry Weaner and Neil Diboll, who walk the viewer through meadow.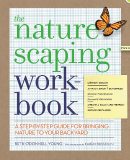 The Naturescaping Workbook: A Step-by-Step Guide for Bringing Nature to Your Backyard, by Beth O'Donnell Young
Much of modern garden design is about controlling nature to achieve a desired effect. But for the eco-conscious homeowner, the best garden designer is Mother Nature, and following her lead can result in a beautiful low-maintenance landscape that requires fewer resources, attracts natural wildlife, and saves time and money.
In The Naturescaping Workbook, author Beth O'Donnell Young sets forth an easy-to-follow, do-it-yourself plan for gardeners of all skill levels. Her step-by-step approach teaches gardeners to understand their own natural habitat and to nurture the native eco-systems that exist in their yard. And the payoff is huge. By simply becoming aware of the natural wonders in the backyard, anyone can gain a more beautiful garden and take a big step toward bringing nature home.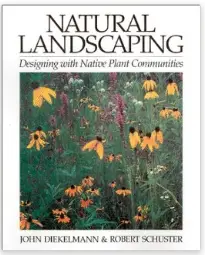 Natural Landscaping: Designing With Native Plant Communities, by John Diekelmann and Robert L. Schuster
In response to demand from landscape architects and home gardeners, Natural Landscaping returns to print in an updated and expanded second edition. It is unique in its focus on plant communities; it approaches landscape design as the establishment of natural ecosystems, rather than mere planting of specimens. Emphasizing the natural landscapes of the northeastern United States and eastern Canada, this book
o reviews landscaping principles and techniques
o introduces native plant species for grasslands, forests, edge areas, and small wetlands
o illustrates how to evaluate a site and plan for visual effect and maintenance
o presents the issues involved in restoring bogs, ponds, and other wetlands
o offers practical advice on reducing chemical use while still combating invasive plants
o addresses social, legal, design, and planting problems often encountered on residential sites
o discusses natural landscaping for public parklands, civic buildings, school grounds, and corporate properties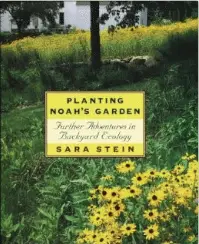 Planting Noah's Garden: Further Adventures in Backyard Ecology, by Sara Stein
Sarah Stein's brilliant book Noah's Garden placed the author at the forefront of the new field of ecological gardening. Now, in Planting Noah's Garden, she tells the even more fascinating story of the many ways people in all parts of the country are redesigning their surroundings to welcome back the birds, butterflies, fireflies, and other creatures driven away by the sterility of the typical suburban landscape. In the second half of the book she offers specific information readers will find nowhere else: how to learn the common flora of your region; how to handle group wholesale orders; how to kill invasive plants; how to collect and plant wild seeds; how to start a tree island; how to plan a patio habitat – and much, much more. Planting Noah's Garden is both a call to action and a blueprint for a new gardening aesthetic.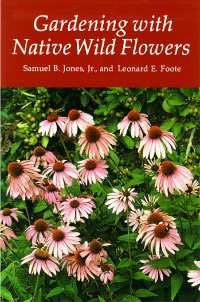 Gardening with Native Wildflowers
by Samuel B. Jones, Jr and Leonard Foote
This classic on native plants encourages the garden use of wild flowers, grasses, ground covers, and hardy ferns native to the eastern and midwestern U.S., suggesting suitable plants for woodland, meadow, and wetland features in the garden.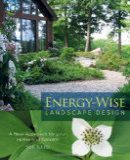 Energy-Wise Landscape Design: A New Approach for Your Home and Garden, by Sue Reed
Residential consumption represents nearly one quarter of North America's total energy use and the average homeowner spends thousands of dollars a year on power bills. To help alleviate this problem, Energy-Wise Landscape Design presents hundreds of practical ways everyone can save money, time, and effort while making their landscapes more environmentally healthy, ecologically rich, and energy efficient.
Combining general guidelines with tips, techniques, and actions, this fully illustrated guide explains the many opportunities our landscapes provide for conserving energy. Readers will learn how to:
Lower a home's heating and cooling costs
Minimize fuel used in landscape construction, maintenance, and everyday use
Choose landscape products and materials with lower embedded energy costs
Make a positive difference without a major investment or change in lifestyle
Intended for homeowners, gardeners, landscape professionals, and students, the design ideas in this book will work in every type of setting—large or small, hilly or flat, urban or rural. Written in non-scientific language with clear explanations and an easy conversational style, Energy-Wise Landscape Design is an essential resource for everyone who wants to shrink their energy footprint while enhancing their property and adding value to their home.
Native Plants of North America
Native Trees Shrubs, and Vines for Urban and Rural America: A Planting Design Manual for Environmental Designers, by Gary L. Hightshoe
Native Trees, Shrubs, and Vines for Urban and Rural America A Planting Design Manual for Environmental Designers Gary L. Hightshoe As environmental designers strive to maintain the ecological context of the landscapes they design, they are turning more and more to native plantings. Native plantings are hardier than more exotic imports, requiring less care. They mesh better with other natural elements of a landscape, such as soils, climate, and wildlife. And, popular misconceptions about their scraggly, disorganized look aside, they can be used to create stunning design effects. Until now, however, landscape designers had to search through many sources to find the native trees, shrubs, and vines appropriate to their particular environmental conditions as well as to the effect they want to achieve. This comprehensive volume puts all the information needed to choose native plantings in one handy reference source.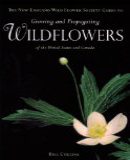 The New England Wild Flower Society Guide to Growing and Propagating Wildflowers of the United States and Canada, by William Cullina
This most complete and authoritative guide to North American wildflowers offers clear and detailed information on growing and propagating 200 genera and 1,000 species of these precious plants. No matter what your level of interest — whether it is to introduce a few plants into your garden or to learn how to propagate them for yourself or for sales, this book will inspire as well as inform you.
With Cullina's guidance, you'll learn in which parts of the continent the plants are found in the wild, and — even more helpful — where and how to succeed with them in your own garden wherever you live. As open land disappears, so too do many of the native plants that once flourished on this continent. Gardeners may be their last resort. It is the author's philosophy that a garden is not just an extension of our houses but a habitat we share with plants and the animals that depend on them for food and shelter. He writes: "There is value in preserving wilderness, but there is equal value in restoring the suburbs and cities where most of us live to something closer to balance — for our children's sake and the sake of all the other species around us. Growing wildflowers is not only fun and easy, it fosters a genuine connection with the region you live in."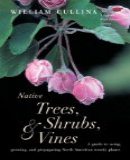 Native Trees, Shrubs, and Vines: A Guide to Using, Growing, and Propagating North American Woody Plants, by William Cullina
For gardeners, for landscape professionals, and for anyone who cares about preserving the natural world, NATIVE TREES, SHRIBS, AND VINES is the first national guide to using, growing, and propagating North American woody plants.
Written in lively, informative language and illustrated with more than two hundred photographs, William Cullina's book is a comprehensive reference to almost one thousand native woody plants. An invaluable guide for naturalists, restorationists, nursery owners, landscape architects, and designers as well as gardeners, it points out that ecological gardening offers specific benefits to the individual as well as the environment. Even more than wildflowers, native trees, shrubs, and vines are essential to providing the food and shelter that attract birds and insects to the garden. And plants that are native to an area are far easier to grow and maintain than ordinary cultivated garden plants.
Native Ferns, Moss, and Grasses: From Emerald Carpet to Amber Wave, Serene and Sensuous Plants for the Garden, by William Cullina
William Cullina's fresh and informative take on identifying and caring for native plants comes full circle in Native Ferns, Moss, and Grass, the third book in a series (which also includes Wildflowers and Native Trees, Shrubs and Vines) that combines encyclopedic information about North American species with practical instruction. Cullina notes that ferns, moss, and grasses are the green canvas for colorful blooms: they bring a level of refinement and sophistication that no flower can match, and no garden is complete without them. Native Ferns, Moss and Grasses offers a thorough discussion of plant hardiness, and for each species the natural range, type of soil, and habitat in which the plant thrives is indicated. The book concludes with complete information on where to buy featured plants and suggested species for various uses and spaces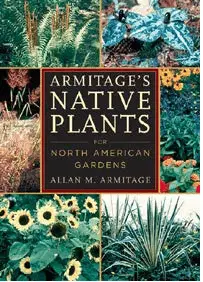 Armitage's Native Plants for North American Gardens, by Allan M. Armitage
The popularity of native North American plants has soared in recent years, for many good reasons. Whatever draws you to native plants, you'll find no better or more authoritative guide than Allan Armitage. Widely acknowledged as one of the world's foremost horticulturists, Armitage describes more than 630 species and cultivars of perennials, biennials, and annuals that are native to the United States, bringing to each plant a wealth of practical knowledge and the full weight of his experience and expertise. Each entry includes a general description of the plant plus essential data you need to grow it successfully, including habitat, hardiness, correct garden site, maintenance, and propagation-all in a clear, easy-to-use format. Whether you are a native plant enthusiast or simply wish to use plants that work in the landscape, you'll find everything you are looking for in this readable, information-packed volume.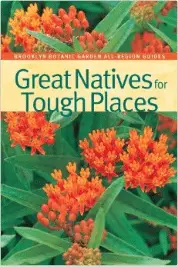 Great Natives for Tough Places (Brooklyn Botanic Garden All-Region Guide), by Niall Dunne
From the world-famous Brooklyn Botanic Gardens comes a unique, all-region handbook that introduces gardeners to the many beautiful native plants that thrive in tough growing conditions—with little or no maintenance. It profiles spectacular trees, shrubs, grasses, wildflowers, vines, and bulbs that naturally cope with disturbed and depleted soils, extremes of sun and shade, regular buffeting by strong winds, and other challenging environments. In addition, unlike many tough species, these don't have invasive tendencies but support sustainable ecosystems. Written by the finest experts on the subject, this practical guide provides a bounty of information on everything from site-appropriate designs to propagation and care.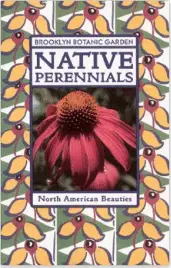 Native Perennials (Brooklyn Botanic Garden All-Region Guide)
by Brooklyn Botanic Garden
Why grow foreign delphiniums when you can have beautiful lobelia? Native wildflowers can play a variety of roles in your garden and create a regional feel so your yard doesn't scream "Anywhere USA!"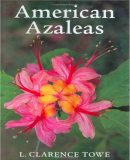 American Azaleas, by L. Clarence Towe
Other than a few Asiatic and one European species, North America is home to all the deciduous azaleas, members of the genus Rhododendron. There are native American azaleas suitable for a wide variety of garden environments. Gardeners interested in knowing more about these attractive, usually fragrant shrubs will discover here the diversity to be found in the species and will learn about recent trends in cultivation, selection, and hybridization. American azaleas are not used as much as they should be in gardens and in landscaping, even in areas where the plants are native and are common along roadsides. The author offers expert recommendations on all the horticultural aspects important for growing these colorful shrubs, including siting, soil preparation, and companion plantings. His coverage of the native species and the cultivars is comprehensive and up to date. The book provides all that the reader needs to enjoy the year-round pleasures offered by American azaleas.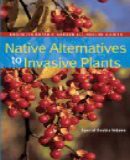 Native Alternatives to Invasive Plants, by C. Colston Burrel
The biggest enemy of any garden is not a pest, disease, or poison—it's any plant with tougher survival skills than the plants it competes with. The best way to weed out the invaders is with this fiendishly clever guide to native plants that can seek and destroy the top 100 most unwelcome perennials, grasses, vines, shrubs, and trees. While replacing the invaders, the beautiful, hardy native plants described here also attract native birds and butterflies, while turning away their own enemy invaders. Word-and-picture guides provide tips on care and maintenance, while helpful "at a glance" boxes depict shapes, sizes, best locations, and most attractive features of each native alternative.
Landscaping for Wildlife With Native Plants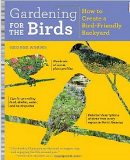 Gardening for the Birds: How to Create a Bird-Friendly Backyard, by George Adams
You may already have a bird feeder in your yard, but you can attract a far wider range of species, and they will stay longer, if you create a bird-friendly landscape. Gardening for the Birds shows you how.
With the right native plants, arranged to mimic natural ecosystems, you will provide birds with food, water, shelter, and nesting places. Instead of just visiting your garden to snack, birds will call it home.
With hundreds of native plants, extensive seasonal bloom and fruiting charts, and the techniques for creating a balanced ecosystem, this book helps you turn any space—from a small, urban terrace to a large suburban yard—into a home for a fascinating variety of birds. Close-up profiles of birds from across all regions of North America teach you their nesting, breeding, and feeding habits.
Birding and gardening are natural companions: let this rich compendium help you make your garden a sanctuary for the local bird population and yourself!
Attracting Native Pollinators: The Xerces Society Guide, Protecting North America's Bees and Butterflies, by The Xerces Society and Dr. Marla Spivak
Attracting Native Pollinators is a comprehensive guidebook for gardeners, small farmers, orchardists, beekeepers, naturalists, environmentalists, and public land managers on how to protect and encourage the activity of the native pollinators of North America. Written by staff of the Xerces Society, an international nonprofit organization that is leading the way in pollinator conservation, this book presents a thorough overview of the problem along with positive solutions for how to provide bountiful harvests on farms and gardens, maintain healthy plant communinities in wildlands, provide food for wildlife, and beautify the landscape with flowers.
Full-color photographs introduce readers to more than 80 species of native pollinators — including bees, flies, butterflies, wasps, and moths — noting each one's range and habits. The heart of the book provides detailed garden plans and techniques showing how to create flowering habitat to attract a variety of these pollinators, help expand the pollinator population, and provide pollinators with inviting nesting sites. Readers will also find useful instructions for creating nesting structures, educational activities for involving children, and an extensive list of resources.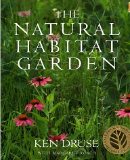 The Natural Habitat Garden, by Ken Druse
Through 500 color photographs, The Natural Habitat Garden introduces readers to 35 gardens that re-create the naturally balanced plant communities found in each of the four main botanical habitats. Druse helps to define a new horticultural aesthetic while showing gardeners everywhere how they can recreate the natural havens for birds, butterflies, and other wildlife that once made America beautiful. Full-color photographs.