The day was warm, bright, and sunny when we boarded the Odyssey from Portland, Maine for a whale watching tour.
Whale watching boats are also a wonderful way to do some pelagic birding, which means ocean birding. Basically you get on a boat and go 80 or 90 miles off shore (sometimes even further) and look for ocean-going birds.
I love the ocean and I love boats, so I try to do some pelagic birding as often as I can, especially when I'm in a new place.
I was quite hopeful that we would see some Minke whales on this excursion because they had seen them several days earlier from this same boat.
I was also quite excited about seeing lots of birds off the coast of Maine. Maybe some Puffins, Scoters, Eiders, Terns, Gannets, Black Guillemots, Razorbills, and Murres.
One thing to know about pelagic birding, it's very difficult to get good photos because of the motion of the boat, but I always try…
But Mother Nature had other plans.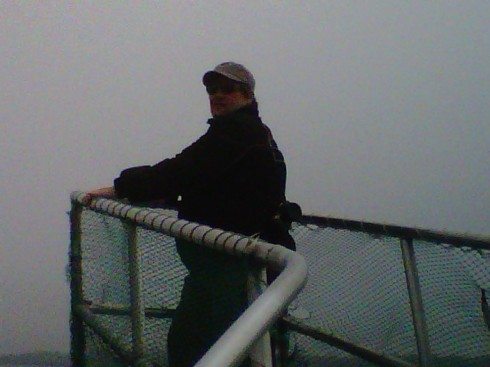 Almost as soon as we left the safety of the harbor the fog rolled in, and the ocean became quite choppy. Always the optimist, I maintained my position out on the prow, constantly scanning for birds and whales.
It was cold and windy, and I was chilled to the bone after several hours of being showered with salt spray.
Most of the other passengers were sick, and everyone else was huddled inside the cabin trying to get warm.
I lasted up in my perch until we got hit by a really large swell and both of my feet left the floor and I was looking (too close for comfort) at the ocean directly below my face. So sadly, I had to give up and move back onto the main deck of the boat.
I did spot some Gannets, lots of Terns, some Eiders, and 4 species of Gulls, plus a flock of Puffins flying away from me. And, I had fun. So even though visibility was horrible, we didn't see any whales, and I was quite chilled (easily remedied by a bowl of steaming chowder when we docked), I enjoyed the trip and am ready to go again.
To me that is the joy of birding. Every day is an adventure when you're looking for birds.
Ecosystem Gardening
Average rating:
0 reviews