This weekend Debra and I took our 3 favorite nature-loving kids to John Heinz National Wildlife Refuge. While we normally go there to do some serious birding, this day was all about enjoying our special time with Libby (8), Penny (6), and Emmett (3).
Libby was very excited because she had her mom's old iPhone and she wanted to document our adventure and develop her photography skills. Here's a look at our day through the eyes of this budding naturalist.
Wildlife refuges, nature centers, and many parks are devoted to teaching kids about the wonders of nature, and John Heinz National Wildlife Refuge is no exception.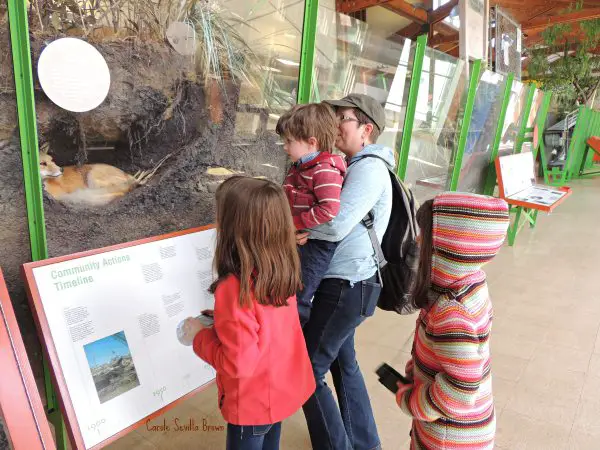 The visitors center is full of interactive displays, dioramas, and taxidermied specimens so that children can see various wildlife species up close, and to practice using binoculars. John Heinz National Wildlife Refuge has a binocular lending program, and even kids binoculars that you can borrow during your visit (you just have to leave your car keys with them to remind you to return the binoculars before you leave).
The large glass windows look out to a bird feeding station, where the Wild Turkeys often come to feed. This is exciting for the kids, and for me as well, because large birds that don't move very fast are wonderful to teach kids how to use their binoculars to get good looks at these birds. Learning to focus on large birds makes it much easier to learn to see smaller birds, too.
There are lots of educational signs placed throughout John Heinz National Wildlife Refuge, and these are every bit as much fun for kids as seeing any wildlife, and are a fun way for Libby to practice her reading skills and teach Libby and Penny about the nature each sign is describing.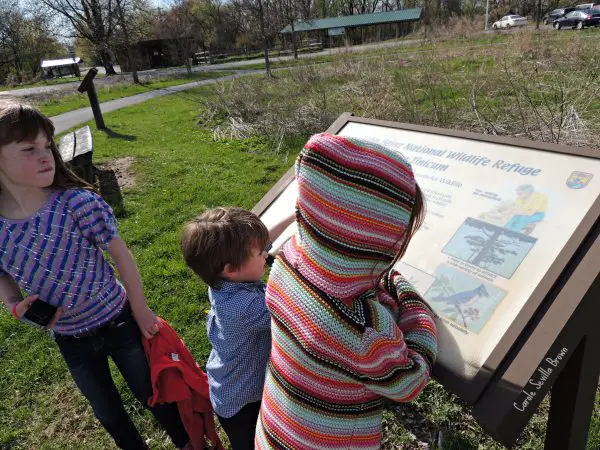 In fact, Libby loved the signs so much, she photographed many of them. The Wild Turkey on the sign was almost as much fun as seeing the Wild Turkey come to visit the feeder.
The bridge over the impoundment is lined with painted signs showing various wildlife, which 3 year old Emmett found particularly exciting.
Also on the bridge are some life-sized paintings of the wing span of several raptors.
Some are the same size as a 5 year old's "wingspan"
But the Bald Eagle takes all 3 kid's arms to be as big as this Eagle.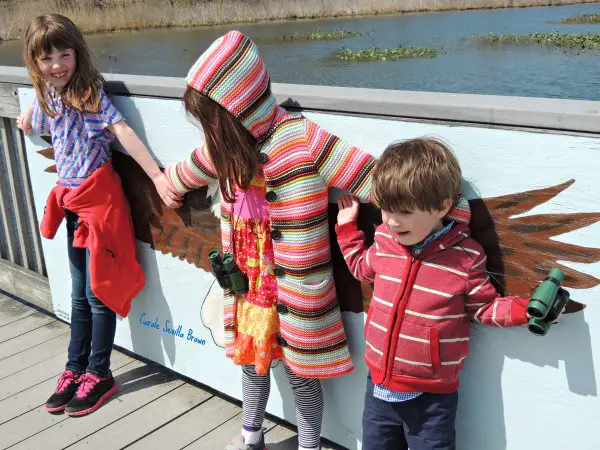 Libby, Penny, and Emmett have spent so much time outside enjoying nature with their parents that they are quite adept at creating their own fun, like finding a "balance beam" and practicing the art of the dismount, just like the Olympics.
The bridge also has a powerful spotting scope for looking at far-away birds (or each other), which was great fun for Libby, Penny and Emmett.
There's are lots of strategically-placed benches to rest and have a picnic snack
Turn off the TV, unplug the iPads, and take your kids outside to discover the natural world nearby. Your kids will learn so much, and you will have many fond memories of the fun adventures you will have!
Plant a wildlife garden, and you will have endless days of discovery with your own favorite nature kids right in your own backyard.
Average rating:
0 reviews