Hurricane Irene has passed leaving a huge swath of devastation in her path. My heart and my prayers go out to those in North Carolina, New Jersey, and Vermont who have suffered so much. My own inconvenience seems so small by comparison.
But for a birder, hurricanes often turn up many birds in unlikely placesOs, and this can be very exciting indeed.
The first time I saw a Brown Booby was at a nesting colony in the Dry Tortugas at the outermost tip of the Florida Keys. That is where you'd expect to see this tropical bird.
However, this week I saw a Brown Booby in Cape May, NJ far outside of its normal range. I traveled with two dear friends to Cape May to see what birds had turned up after the hurricane.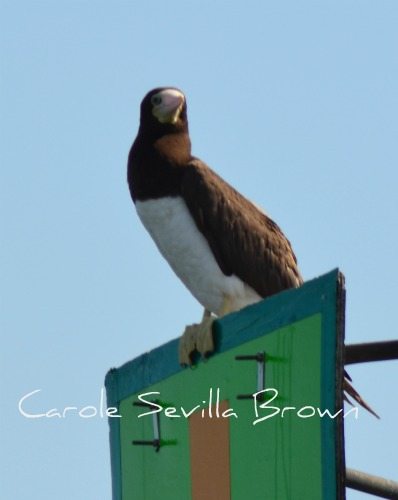 If I had been able to get past the flooded roads in my neighborhood the day before, I would have seen a White-tailed Tropicbird and lots of different Terns who were also far outside of their normal range.
But the day I was able to go was gorgeous! We boarded the Osprey, Cape May's Wetlands Wildlife Safari cruise, with captain Bob Lubberman. Captain Bob is a very knowledgeable birder, and next time you're in Cape May you will find that his wetlands cruise is well worth the time!
The only other passenger that day besides my two friends and I was Bill Boyle, author of several books, including his latest The Birds of New Jersey: Status and Distribution.
It was quite an honor to share this trip with such an amazing birder! We got the opportunity to learn so much about all of the birds we were seeing.
But our question today is what happens to migrating birds during a hurricane? Why are so many birds seen so far out of their expected range?
My friend Karyn Greenstreet asked me from her Facebook page, what do the birds do during the hurricane?
My answer? They find a safe place to take cover and wait out the storm. This is where your Ecosystem Garden for wildlife comes in. Make sure you've planted lots of native shrubs and trees, especially evergreen conifers so that the birds have someplace to hunker down.
At this time of year many birds are making their way south from their breeding ranges to their wintering homes. They are easily swept up into the high winds of a hurricane and blown way off course.
Charles Kennedy, the president of the South Alabama Birding Association, talks with Liane Hansen of NPR about the behavior of birds he has seen as they are blown from their natural habitat by hurricanes.
And follow the Zen Birdfeeder's photos and videos of the birds in her garden during the hurricane.
Average rating:
0 reviews