I just returned from a wonderful visit to Guatemala on a birding FAM trip, where I had the opportunity to visit many coffee fincas and other farms. It's so exciting to see farmers working hard to protect bird habitat, and making that an important part of their operation.
While there I had the pleasure of meeting Claudia Garcia and Vicky Rios, two biologists from the Guatemala Birdwatching Roundtable working to preserve bird habitats in this beautiful country.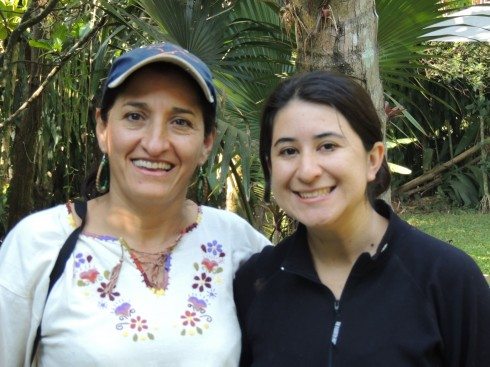 Claudia Garcia and Vicky Rios
I was visiting Los Tarrales, a coffee and ornamental plant finca on the slope of the Atitlan Volcano, and a must-see stop on any birdwatching tour of Guatemala. Claudia and Vicky were there for a meeting of the Roundtable.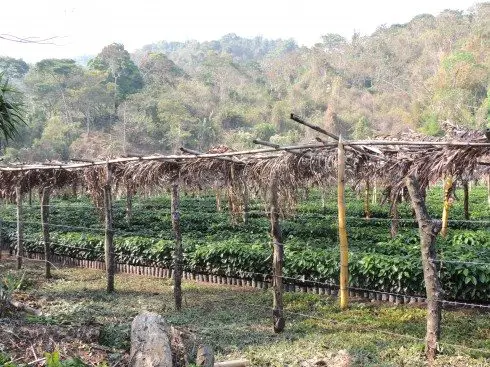 Los Torrales Coffee and Ornamental Plant Finca
The Guatemala Birdwatching Roundtable is an association of 140 individual farmers, 10 community farm collectives, 10professional organizations and environmental groups, and 3 school systems devoted to protecting bird habitat on area farms (fincas) to entice international tourists to visit these fincas to see the iconic birds that make their homes in Guatemala.
While these farms may be growing coffee, cocoa, rubber, fruits and nuts, or ornamental garden plants, each of them has set aside a portion of their land to be maintained in primary forest to provide habitat for these birds.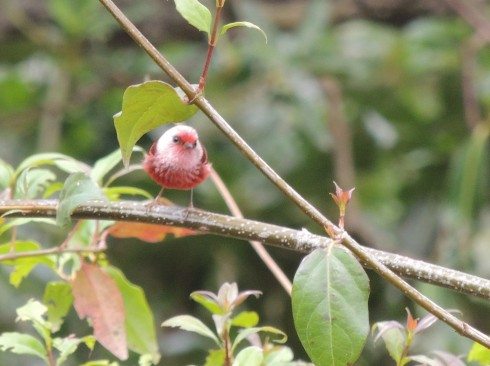 Pink-headed Warbler
To date over 500,000 hectares of land has been preserved in Guatemala through the efforts of these farmers and the Guatemala Birdwatching Roundtable.
Put three biologists at a dinner table and even if Claudia and Vicky are unsure of their English, and I don't speak Spanish at all, we still managed to communicate quite well about the importance of protecting habitat so that wildlife will flourish.
We each got so excited to realize that their goals are the same as mine with the concept of Ecosystem Gardening. And they have managed to find a way to accomplish this on a much larger scale by teaching these farmers that there can be financial benefit to preserving the land when international birders come to visit their fincas to see the birds.
Claudia made a very profound statement that has stuck with me ever since:
To save the world, we have to save private land for the birds
The Guatemala Birdwatching Roundtable is working to create wildlife corridors by linking the farms together to create larger blocks of protected habitat. Kind of like joining together links in a chain.
I was so impressed with the work that Claudia and Vicky are doing with the Roundtable and these farmers!
Imagine if small farmers here in the US worked together to set aside portions of their land to provide habitats for birds and other wildlife!
Imagine if large farmers joined forces with them to create large wildlife corridors devoted to protecting our wildlife.
And imagine if there was actually a financial incentive that encouraged more farmers to join in?
I'm so excited about the amazing successes that the Guatemala Birding Roundtable has accomplished so far with their work. It's a model that could work very well anywhere in the world. And my wish is that we learn to do it here, too.
Farmers, homeowners, businesses, schools, and landowners joining forces to set aside portions of their land to create welcoming habitat for wildlife, making larger wildlife corridors by connecting tracts between properties.
Average rating:
0 reviews