Tomorrow morning I'm off to spend the week near Portland, Maine for the week, and I'm very excited to see some birds and visit some new botanic gardens, plus I have a hankering for lobster rolls and blueberry pie!
Last time I went to Maine I spent a good chunk of the summer camping and birding my way all the way around the state.
We started on the Western side of Maine near Moosehead Lake, toured Baxter State Park, then moved up to the northernmost point where Route 1 ends in Fort Kent in Aroostook County (earlier that year I had been at the opposite end of Route 1 in the Florida Keys), so it was nice symmetry to also see the other end that same year.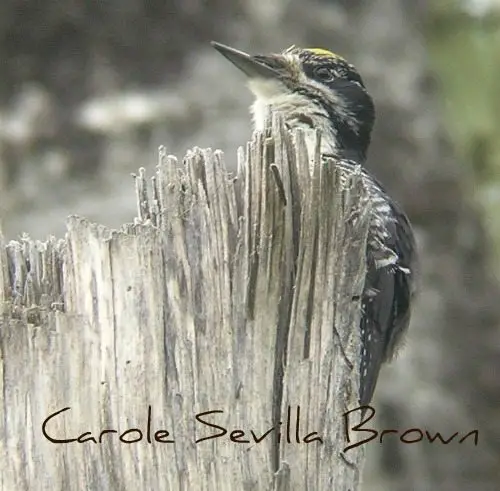 Three-toed Woodpecker
I was thrilled to find the only breeding pair of Three-toed Woodpeckers in the entire state that year, with the help of an amazing guide, Bob Duchesne who took us all over Aroostook County in search of this rare bird in Maine. With his help we got to see Boreal Chickadees, Gray Jays, both cross-bills, and many other boreal birds.
We left Aroostook County and camped our way down the coast, staying in Cobscook Bay State Park, stopping in Jonesport for our visit to Machias Seal Island, then Acadia National Park, and finally ended up at Beaver Dam Campground near the Southern border.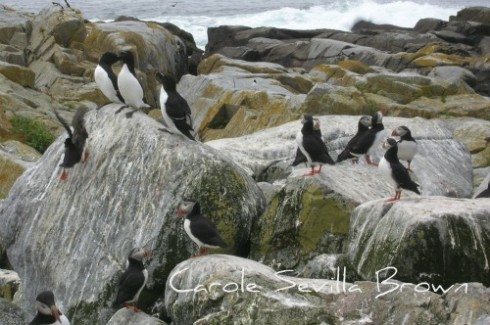 Puffin and Razorbill Colony, Machias Seal Island
After the Three-toed Woodpecker, the highlight of the trip was our boat trip to Machias Seal Island to see the nesting Puffins, Razorbills, and Common Murres.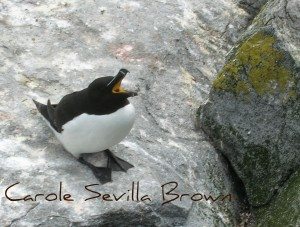 Razorbill, Machias Seal Island, Maine
Machias Seal Island is a remarkable place. We traveled out into the Bay of Fundy for about an hour and came across this small, rocky island that was literally covered with birds. We could hear their calls well before we saw any birds.
Now I have to say, Puffins may just be the cutest birds on the planet, with their clown-colored bill and funny way of flying. They are just so adorable, and I'm thinking I may just have to take another boat trip to see them again while I'm in Maine.
I'm also planning to visit the Coastal Maine Botanical Garden, which specializes in the native plant communities of this rocky, coastal ecosystem.
If you live near Portland, Maine, where else should I make time to visit? Do you have a favorite birding spot? How 'bout a favorite garden? I welcome your suggestions to make my visit to your beautiful state full of birds and beauty.
Ecosystem Gardening
Average rating:
0 reviews