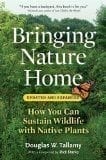 Welcome to the next edition of the Ecosystem Gardening podcast series!
In this installment, I'm talking with Doug Tallamy, one of my
Heroes of Ecosystem Gardening, and author of Bringing Nature Home: How Native Plants Sustain Wildlife in Our Gardens.
Dr. Tallamy is Professor and Chair of the Department of Entomology and Wildlife Ecology at the University of Delaware. Chief among his research goals is to better understand the many ways insects interact with plants and how these interactions determine the diversity of animal communities.
Here's the summary:
Our traditional view of gardening has been to treat plants as if they are merely ornaments and to ignore their ecological roles. Your garden is part of the greater landscape, and each of us is responsible for becoming a steward of our properties as a healthy contributor to the environment around us.
Native plants support local food webs. Invasive plants disrupt local food webs, and ornamental plants offer very little in the way of contributing to the local food web.
Some interesting facts:
30% of the plants in our natural areas are invasive plants. In fact there are over 3400 species of invasive plants in this country
92% of our suburban areas is lawn, which does not contribute to local food webs
79% of what is planted in our suburban areas is not locally native
600 square miles of lawn is added in this country every year
When asked about the claims that the new cultivar Dwarf Butterfly Bush "Blue Chip" Buddleia, Doug expressed his skepticism. He discussed how Bradford Pear was marketed in the same way, with claims of low seed set and sterility, but when this plant was cross-pollinated with other new cultivars, the plant became quite invasive, and now we have a horrible problem with Callery Pears invading natural areas.
The same claims were made for a supposedly sterile form of Purple Loosestrife, but when it is cross-pollinated, it reverts to being invasive, too. My vote, it's not worth the risk!
Top two tips for contributing to the local food web in your Ecosystem Garden?
Add more native plants, especially woody, structural plants which support a much higher level of biodiversity
Reduce your lawn (remember that 92%?), and add more plants, the more the better
To make this easier, check out these resources based on Doug's work:
Top 10 Woody Plants for Wildlife in your Ecosystem Garden
Top 10 Herbacious Plants for Wildlife in Your Ecosystem Garden
And if you haven't yet read Bringing Nature Home, I highly recommend it!
Average rating:
0 reviews