Birds of late summer at the urban oasis of John Heinz National Wildlife Refuge near the Philadelphia, PA airport
6:30 am alarm clock on a drizzly Sunday morning. Sounds like a great reason to stay in bed, snug as a bug under the covers.
But this morning I have a wonderful reason to drag my buns out of bed. It's time to see what birds can be found on this August morning at my local wildlife refuge near the Philadelphia airport.
John Heinz National Wildlife Refuge is a welcome natural respite from the concrete jungle that is the city of Philadelphia, providing habitat for many birds and a migratory rest stop for both northbound and southbound ducks, shorebirds, warblers, herons, swallows and much more.
A dedicated crew of expert birders volunteers to lead bird walks every Saturday and Sunday morning. These walks help beginning birders learn to identify common birds, and more accomplished birders to identify birds by their song and discuss the vagaries of bird identification for breeding plumage males and females, juvenile birds, and the confusion of fall (eclipse) plumage.
Plus it can be a wonderful social event to catch up with birder friends and hear of their birding adventures around the country and around the world.
This morning's bird walk was led by volunteer Debbie Beer, who kept up a continuous littany of facts about each bird that we saw and tips on how to make a positive identification. I began my birding career many years ago by attending as many of these weekend walks as I could cram into my schedule, and I'm so grateful for these volunteer birders who have shared their wisdom with me over the years.
By the time we arrived at the Cusano visitors center, the rain had stopped, and it was now a beautiful sunny day with temps only in the 70s (since it's August with normal temps in the high 90s the common occurrence at this time of year, such a cool morning is a welcome gift).
Debbie Beer greeted us with a friendly hello, had us all introduce ourselves, and started this small group of 12 off through the woods. We paused in the woods to listen to the sounds of bird calls around us. We heard Chickadees, Robins, Cardinals, Tufted Titmouse and many more.
One of the best ways to discover which birds are nearby is to learn to identify birds by their songs. When you get to know the common bird songs in your area, you'll be ready to know that something different is nearby and this new song will help you get your binoculars on the bird.
To our great delight, a young Cooper's Hawk flew right overhead, circled around, then headed back toward the nest. Debbie Beer informed us that a pair of Coopers Hawks had built their nest in the woods earlier this year and successfully fledged several baby Hawks this year.
At this time of year large flocks of herons are arriving at the refuge. These herons are migrating south for the winter, but they gather in large flocks and stay for several weeks and then take off together to head further south as a group.
The easiest way to observe these groups is to head out at dusk and watch them gather together to roost for the night in the trees.
We saw 3 species of heron during this bird walk:
Great Blue Heron
Green Heron
Great Egret
There's a boardwalk across the impoundment that makes it easy to spot birds out on the water. And from here we observed a group of 21 Great Egrets and several Great Blue Herons. And then located a Green Heron along the shoreline.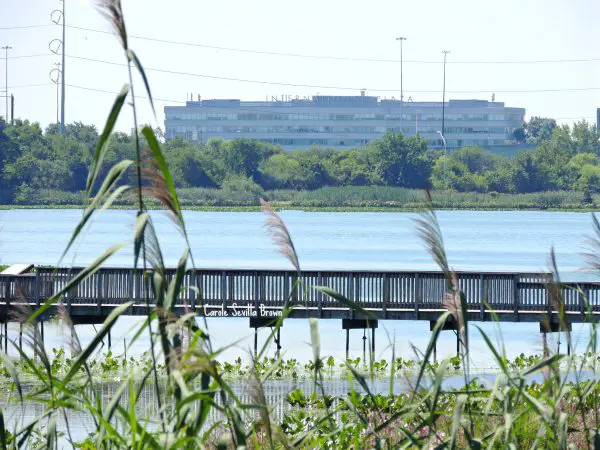 Swallows were zipping all around us as we crossed the bridge. It's funny, in early spring the predominant swallow is the beautiful irridescent blue Tree Swallow, which along with Red-winged Blackbirds are the first migrants to return.
But at this time of year, Barn Swallows are the reining kings of the water, and many just-fledged birds lined the railings. Along with reduced numbers of Tree Swallows, we also got to see several Bank Swallows.
And we also got some great looks at some female Red-winged Blackbirds (the males arrive well before the females in spring to stake out their territory, and leave well ahead of the females in fall).
We headed out to the observation platform and got to see several Blue-gray Gnatcatchers–a bird that I've tried for years to get a good photo of, but they flit around and move so quickly that I haven't yet succeeded in getting my photo.
We also saw a couple of Yellow Warblers up in the trees. And we got some really good views of a House Wren in the brush near the ground, and also heard Carolina Wrens calling back and forth. Wrens are often hard to spot because they like to be near cover, and they don't stop moving very often.
On our way back across the boardwalk, I heard a Marsh Wren in the reeds. We stopped and watched and got to see the wren fly into it's nest and then come right back out with a fecal sac. As we stood watching, momma and poppa wren alternated between bringing food in and immediately "taking out the trash." They do this all day long–back and forth. Makes me tired just to watch them!
Goldfinches wait until the Thistle blooms to build their nests because they use the floss in their nests. And Debra shot this great photo of a gorgeous thistle bloom: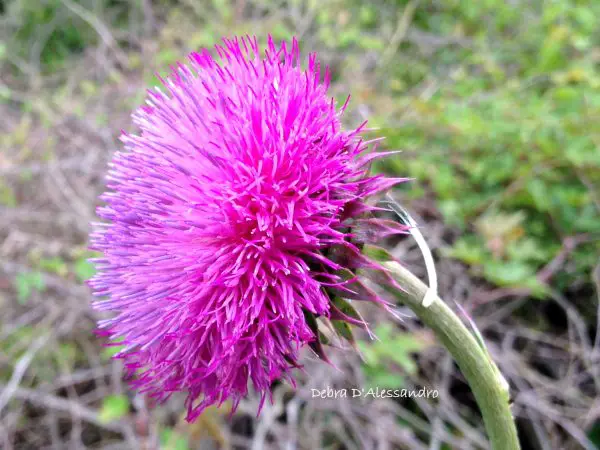 To me, there is no more relaxing way to spend a day, than to grab my binoculars and head outside to see some birds!
Our bird list for the day (43 species):
Canada Goose
Wood Duck
Mallard
Wild Turkey
Double-crested Cormorant
Great Blue Heron
Great Egret
Green Heron
Turkey Vulture
Osprey
Bald Eagle
Coopers Hawk
Laughing Gull
Mourning Dove
Chimney Swift
Ruby-throated Hummingbird
Downy Woodpecker
Northern Flicker
Eastern Kingbird
Blue Jay
American Crow
Tree Swallow
Barn Swallow
Bank Swallow
Carolina Chickadee
Tufted Titmouse
Carolina Wren
House Wren
Marsh Wren
Blue-gray Gnatcatcher
Gray Catbird
Northern Mockingbird
Cedar Waxwing
Yellow Warbler
Northern Cardinal
Red-winged Blackbird
Baltimore Oriole
House Finch
American Goldfinch
Rock Pigeon
There's lots of other nature to observe when taking a walk around the impoundment at Heinz national wildlife refuge: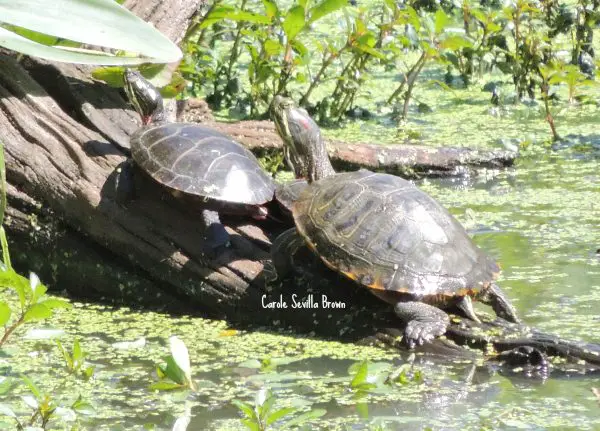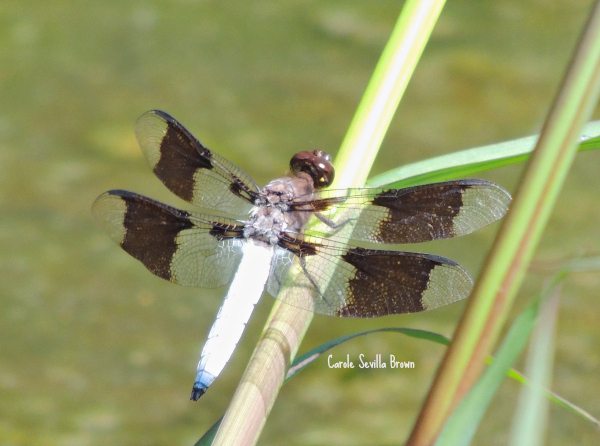 To learn more about the John Heinz National Wildlife Refuge:
Please enjoy my other visits to John Heinz National Wildlife Refuge at Tinicum:
Average rating:
0 reviews