Welcome to our weekly series to showcase the Ecosystem Gardens of our readers. I hope that you are enjoying these tours as much as I am. I love to see other gardens for wildlife because it gives me so many ideas to use in my own garden. Next week, a visit to YOUR garden where we will showcase your wildlife garden.
Many thanks to Evelyn Lovitz for submitting her beautiful photos of her fall garden. Evelyn gardens in Cape May, New Jersey, a couple of blocks from the beach. This presents several problems for a gardener, from offshore winds, to storm surge, to sandy soil that drains very quickly.
Evelyn has made the health of her soil a priority, and I have worked with her as she has incorporated huge amounts of organic material to her soil to make it more fertile and retain more moisture.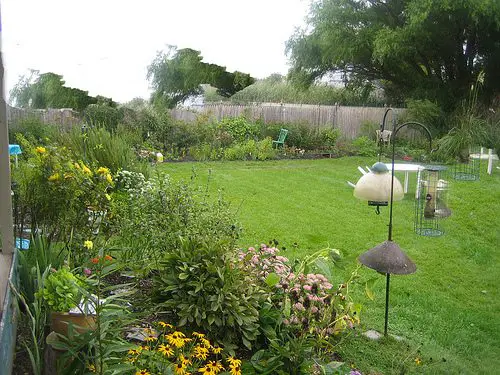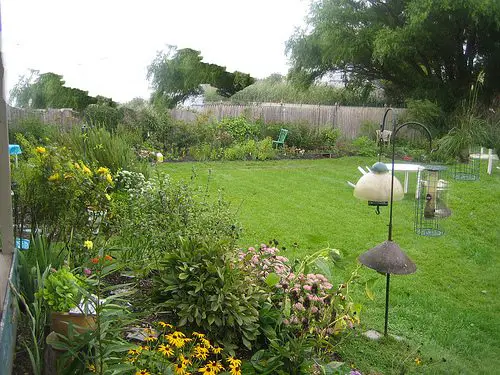 Porch Bed, Shrub bed in background (c) 2009 Evelyn Lovitz
Evelyn began installing gardens for wildlife in 2001. She and her husband had become avid birders and realized that learning the trees and plants would help them spot birds. She began attending Wildife Gardening workshops given by Pat Sutton and Karen Williams at the Cape May Bird Observatory.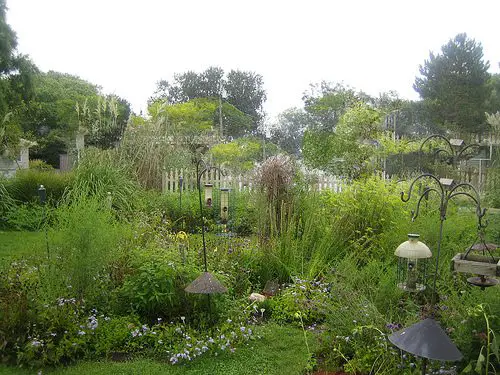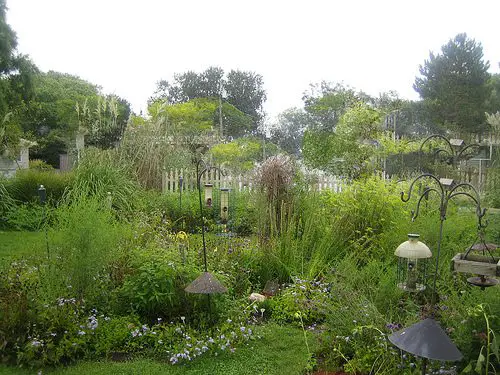 Pond and Butterfly Bed (c) 2009 Evelyn Lovitz
When she began installing wildlife gardens, with a view to attracting hummingbirds, Evelyn purchased pre-planned garden kits from the Nature Center of Cape May. She then used the New Jersey Audubon website where Pat Sutton had published lists of plants to attract hummingbirds, butterflies, and migratory birds. Evelyn has been reading as much as she can about native plants and encouraging her local nurseries to carry these plants.
Cape May is a major hotspot for birders during migration season as thousands of birders from around the world congregate in Cape May to experience the spectacle of migration, all hoping to be there on the days that rare birds appear there. Evelyn has created wonderful habitats which is very welcoming to these birds on their journey.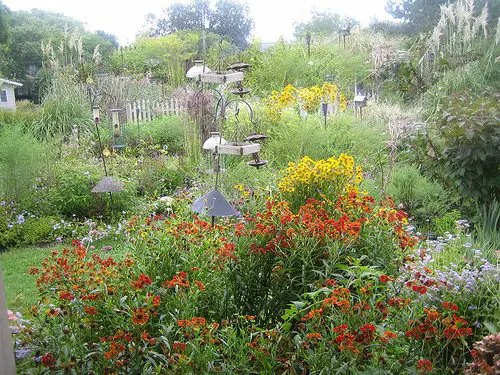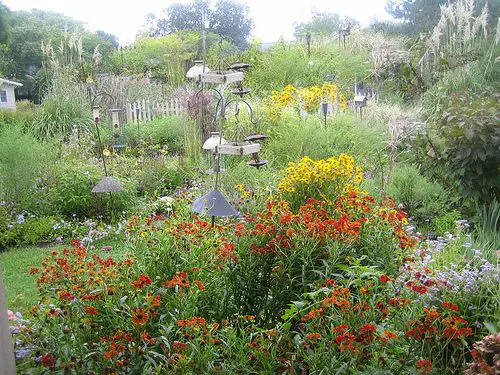 Looking West (c) 2009 Evelyn Lovitz
Evelyn has used every mistake as a learning experience to improve her garden. Here's some of those lessons:
At first I let everything that came up in the spring to grow. That created a dense and too wild garden and overran any paths that I had. I now cut back, pull out and plant elsewhere, plants that are in the wrong place or there are too many of them.
I also planted some "tender" perennials – plants that are annuals in my zone. I found that they take more effort and water than natives to keep them alive. I don't plant these anymore.
I've always been amazed that every time I visit Evelyn's garden there is a new garden bed in the works. Each year she adds at least one new bed, spending her energy on this new bed so that by next year it will be established and she can turn her sights to yet another. There is always something happening here.
I asked her what projects she'll be working on next:
I have been creating new beds on the side of my house by dumping the cut grass from my lawn. This is a dappled shade area,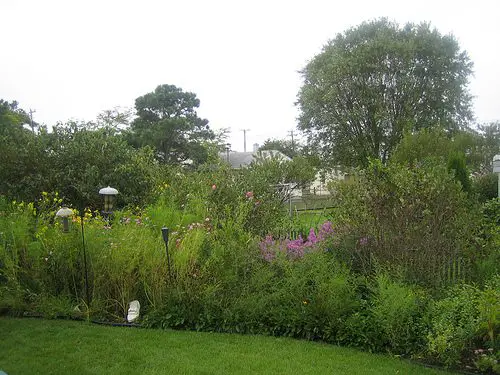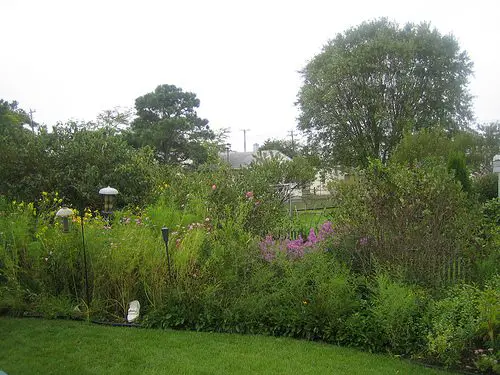 Meadow (c) 2009 Evelyn Lovitz
Evelyn's final words of wisdom, don't be in a rush, start small and grow from there:
It took about 6 years to get my garden to have color from early spring through late fall. And some color during winter. I started with one bed and added one or two each spring. I now have 11 different beds that have begun to run into each other.
Average rating:
1 reviews
Dec 6, 2020
Not feeling it
I think it is great that you finally found your way and are doing your thing and planting what you want but not so cool that you are pushing your findings on all of us. I think your proposed ordinance stems from your own issues that you can't civilly resolve with your neighbor. It is sad, truly. I think if you propose that future plantings be controlled and plants grandfathered in should be maintained is fine but anything more is communist thinking. Move to China if you don't like it!