It is time to start looking at the principles of Ecosystem Gardening in practice, and to start this series off, I made a visit to the wonderful wildlife garden created by Cindy Ahern.
Cindy enthusiastically met me at the sidewalk with binoculars in hand. She was surprised that I did not have my binocular, but it is hard to manage the camera, the digital recorder, and bins (my shorthand for binoculars), too. I spent the next several hours touring her wildlife garden, watching the birds, bees, and butterflies swirling around everywhere. An Ecosystem garden is full of LIFE!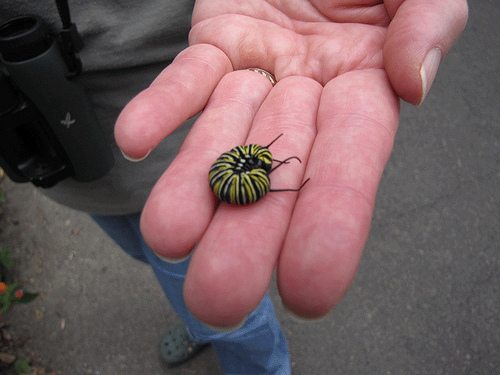 Monarch Caterpillar (c) 2009 Carole A. Brown
Before we got very far, Cindy joyfully exclaimed as she plucked a Monarch caterpillar from the milkweed where it was feeding. Cindy raises each caterpillar she finds in a protected place and then tags them when they have emerged. For a description of monarch tagging see MonarchWatch. This caterpillar was our companion for the rest of my visit, contentedly munching a milkweed leaf in Cindy's hand.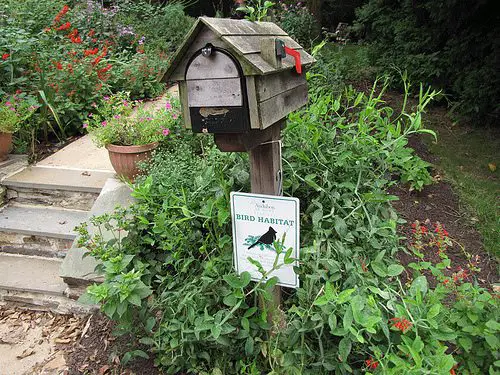 Cindy arrived in her current house in 1998 as a dedicated cottage gardener. She liked symmetry, neatness, and color coordination. This all changed on an August day in 2000 when she saw her first hummingbird at some of her snapdragons. That one sighting sparked a major change in her gardening philosophy.
Since that fateful chance meeting, Cindy has become an avid birder and naturalist and volunteers at Tri-State Wildlife Rescue. She is also a passionate and devoted habitat gardener, and has worked to create welcoming habitats for many types of critters in her wildlife garden.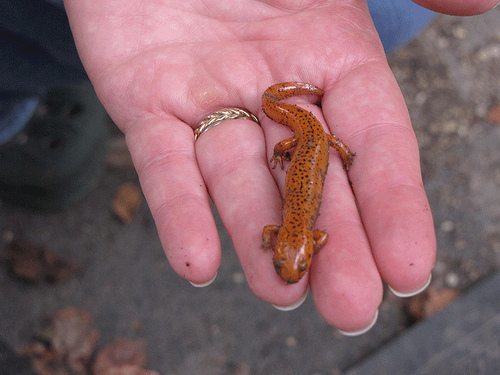 Northern Red Salamander (c) 2009 Carole A. Brown
As we walked up the driveway, Cindy pointed to a set of car floormats laying in the middle of the drive. She said that when she went to pick them up to return them to the car, she had found a Northern Red Salamander hiding underneath. So the car mats stay laying in the driveway, and the little guy has adopted them as his home.
Cindy walks through her wildlife garden every day, binoculars swinging from her neck. She knows where every critter likes to be, from the Newt to the many frogs in her pond, to the favorite perches of the hummingbirds, goldfinches, and chickadees.
Her pond was a birthday present from her husband, who had wanted to throw a big party for her. Cindy said that parties come and go, but I'll have the pond for a long time. What a mensch! He began the work of installing the pond that weekend. Now she is ready for another pond for dragonflies, a bog garden, and a rain garden.
The inspiration for the ladder in Cindy's garden came from a garden tour with Pat Sutton, who had discovered that the Monarch caterpillars often choose the ladder as a great place to transform into the chrysalis stage.
As we ended our tour, we found a just-emerged Monarch Butterfly drying its wings in the sun. Cindy's garden is a great example of Conservation and Ecosystem Gardening. A definite "tip of the garden trowel" to her for her continuing efforts.
Ecosystem Gardening
Average rating:
0 reviews