As an ecosystem gardener I get a lot of inspiration for my wildlife garden by visiting local natural areas to observe how the various pieces of an ecosystem fit together to create welcoming habitat for wildlife.
Even though I live in the highly urban and over-developed city of Philadelphia, there is still a large selection of natural areas to visit right here in my city.
Last weekend I made one of my regular visits to the John Heinz National Wildlife Refuge, located adjacent to the Philadelphia Airport. And even though this space is surrounded by oil tank farms, landfills, city development, highways, and the airport it's easy to see why creating welcoming habitat for wildlife in our urban gardens is so important.
Planning a visit to your local natural areas can provide lots of inspiration for your own wildlife garden. You'll get to see what native plants work best in your area, and get to observe the wildlife species that benefit from these plants. And you'll get lots of ideas to add to your ecosystem garden….See the photos and read more of A Visit to John Heinz National Wildlife Refuge at Native Plants and Wildlife Gardens
Urban Habitat at John Heinz National Wildlife Refuge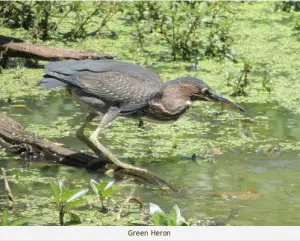 The John Heinz National Wildlife Refuge is a wonderful example of how habitat can be created even in urban areas.
The John Heinz National Wildlife Refuge at Tinicum is located in Philadelphia and Delaware Counties, Pennsylvania, about 1 mile from the Philadelphia International Airport. In fact standing on the road around the impoundment at the refuge is a good spot to watch planes taking off and landing at the airport, which doesn't seem to be the best place for a wildlife refuge at all.
Signs of the urban nature of this wildlife refuge are everywhere. You can see the oil refinery tanks on the other side of Darby Creek from the impoundment road.
Gulf Oil donated a portion of this refuge to the city, but has maintained an oil pipeline that runs through the refuge.
Ecosystem Gardening
Average rating:
0 reviews