I hope you will indulge my once a year guilty pleasure that has nothing to do with gardening for wildlife by seeing the amazing Schaffer Designs display at the Philadelphia Flower Show.
This weekend I made my annual trek to the Philadelphia Flower Show for the sole reason that my friends Bill Schaffer and Kris Kratt of Schaffer Designs always create a stunning and imaginative display, and they usually are awarded Best in Show for their efforts.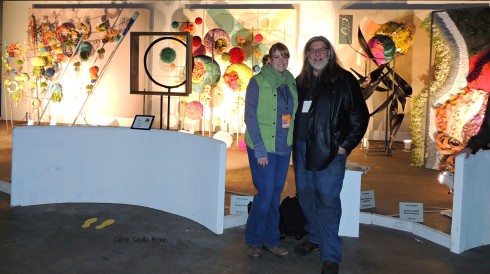 Bill Schaffer and Kris Kratt have won Best in Show 7 times in the past 10 years. And they have authored a beautiful book describing the process behind each year's exhibit called Taking the Flower Show Home: Award Winning Designs From Concept to Completion.
The Philadelphia Flower Show is a well-known and highly anticipated event for gardening and horticulture enthusiasts. It is typically held annually in Philadelphia, Pennsylvania and showcases a wide range of flowers, plants, and garden designs.
The Flower Show attracts thousands of visitors each year and features stunning displays of blooming flowers, lush gardens, and innovative landscape designs. Visitors can learn about the latest gardening trends, attend educational workshops and demonstrations, and connect with fellow gardening enthusiasts. With its beautiful displays and engaging activities, the Philadelphia Flower Show is a celebration of the beauty and diversity of nature and a must-visit event for anyone interested in gardening and horticulture.
The Philadelphia Flower Show:
"is the nation's largest flower show, which blooms every March at the Pennsylvania Convention Center. The show features the world's premier landscape designers and florists, who turn 10 acres of the Convention Center into a floral fantasy of beautiful plants and cutting edge designs."
The theme this year was "ARTiculture" to showcase the fusion of art and horticulture. Each design team was assigned a famous artist, and they were tasked with creating a floral masterpiece based on that artist's work.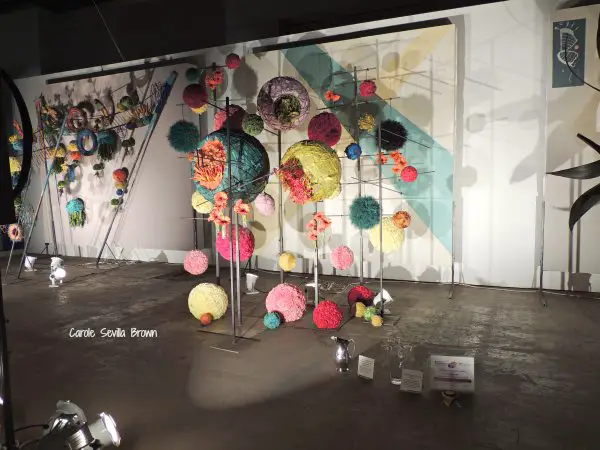 Bill Schaffer and Kris Kratt of Schaffer Designs were given Wassily Kandinski, and their dispay was titled Kandinsky's Canvas:
"Preserved in the seamless spirals of the Guggenheim Museum, the works of Wassily Kandinsky are the inspiration for Schaffer Designs. Often referred to as the "father of abstract art," Kandinsky's autonomous lines and forms were influenced by his intuition, music, spiritual values, and his regard for science as art. With insight from the Guggenheim's collection and curators, Schaffer Designs illustrates Kandinsky's concepts by visually fusing layers of floral shapes, lines, and colors. This interactive view of flowers through forced perspective from single vista points allows attendees to embrace the freedom of expression through the power of abstraction."
The Schaffer Designs display consisted of three parts, each with a pair of yellow footprints and a large metal frame to show each visitor the proper place from which to view each piece.
Now, even though I am no fan of flower shows, I must admit that I very much enjoy seeing the artistry and creativity of Bill Schaffer and Kris Kratt of Schaffer Designs at work!
Average rating:
0 reviews