Think those ivy-covered towers are pretty? Unfortunately, English Ivy (Hedera helix) is one of the most pernicious, nasty, and destructive of the invasive plants because it not only destroys native habitat, it can also destroy your house.
That is why I've added English Ivy to the Most Hated Plants list.
We can thank some very early European colonists for bringing this plant to this country in their quest to create welcoming landscapes that reminded them of their home far away.
It continues to be sold in Home Depots and nurseries across the country for exactly the reasons that make it so invasive: it grows quickly and requires absolutely no maintenance. This makes it very convenient for Home Depot to continue to sell this plant even though it is destroying native ecosystems across the country. (I continue to dream that Home Depot and every store like them will wake up to the consequences of their actions, silly me).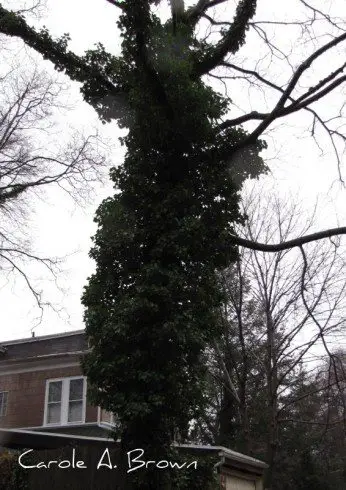 Hedera helix grows by spreading runners which climb over and smother anything and everything in their path including buildings, shrubs, and trees.
If you're a homeowner, you REALLY do not want this plant climbing up your walls. The rootlets will burrow into masonry, eventually weakening them to the point of collapse. On wooden siding the dense cover retains moisture, which causes fungus and decay, while the rootlets pry apart siding and eventually rip your outer walls apart.
As a ground cover, the quick growth and dense cover shade out native plants and suppress their growth. In tree canopies, the enormous weight of the Ivy will eventually topple each tree. The rootlets burrow under the bark, causing fungus and decay while creating opportunities for disease to enter.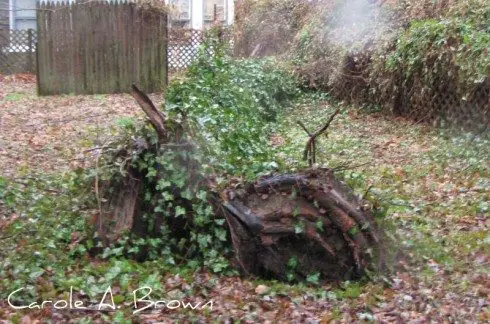 English Ivy is dangerous because it can spread very quickly through native woodlands, both by it's creeping runners, and seed dispersal by birds who eat the berries. As it spreads, native species are lost and biodiversity is reduced until we are left with a very simplified ecosystem or monoculture that is unable to perform all ecosystem services which are essential to wildlife and human survival.
Every spring I fight what feels like a losing battle chasing down ivy runners that have sprung up in my garden because this plant is in every yard that surrounds my yard. It really makes me kind of cranky because while my neighbors are doing no maintenance of their properties, I am doing constant battle to keep this plant out of my yard.
Leave Us Your Comments Below!
Click the Submit Your Comments button below to leave us your comments or questions!
---
---
English Ivy: Most Hated Plants
SKU
UPC
Model
Simple Solution
I am not an advocate of using poison in my yard; however, I always make an excepetion and use round up for poison ivy. It sounds like you need to try it for your ivy problem. It kills the roots and you will have no more runners popping up in spring. It will be gone. Goats are a great organic solution if it is feasible for you.

---
Xenophobia
I have never understood all these hate articles about ivy. I find it completely harmless and it gives deer something to eat in the winter. I have it on my house and it has done no damage at all.

---