Last week I used a photo of a Black Swallowtail Butterfly in a post, which prompted one of my favorite Ecosystem Gardeners, Cindy Brown Ahern, to post this comment on Facebook:
This is such a beautiful creature, and YOU can do something as simple as planting parsley, dill, fennel, carrots in your garden to provide a food source for the caterpillars in addition to flowers to provide nectar for the adult butterfly!
Carrots, Parsley, Dill, Fennel, Queen Anne's Lace: not native
And this is a very true statement, Black Swallowtail caterpillars do, indeed, use all of these as host plants. But I started to wonder what these caterpillars ate BEFORE the European settlement when none of those plants were present in this country.
So I started to research this question. I paged through all of my butterfly gardening books, but each and every one of them said the same thing: "Black Swallowtails use members of the carrot family (Apiaceae) including parsley, fennel, dill, Queen Anne's Lace, and carrots."
Same story online, even at native plant society pages.
So, What IS Native?
Now I am nothing if not determined, so several hours later I FINALLY found the answer at the Lady Bird Johnson Wildflower Center. They have an amazing plants database which is searchable by plant family.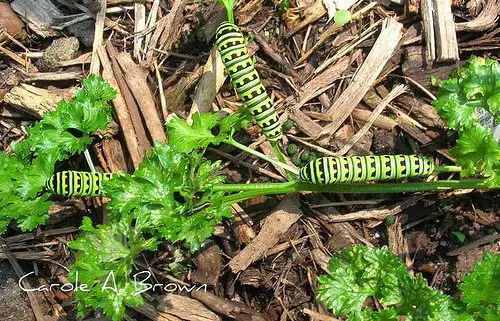 I searched on Apiaceae and discovered that there are 82 native members of this family, many of them endangered.
But, not all of them stated that they were a host plant for the Black Swallowtail. So I entered "Black Swallowtail host plant"
into the search box and ended up with three species:
Zizia aurea (Golden Alexander)
Polytaenia texana (Texas Prairie Parsley)
Polytaenia nutallii (Nuttall's Prairie Parsley)
This is a great start!
What to do now?
I am not suggesting that you stop planting parsley, dill, or carrots for the Black Swallowtails in your butterfly garden, but fennel can be a little aggressive in the garden, and Queen Anne's Lace is invasive in many areas (but is a main ingredient in many wildflower mixes which I call "meadow in a can"), so I'd avoid both of those.
AND, if any of the above native plants are appropriate to your site, add them to your garden.
ALSO, plant some of the other 82 native Apiaceae species and watch them diligently. If you notice Black Swallowtail caterpillars on any of those plants, take a photograph and send it to the Lady Bird Johnson Wildlflower Center. It may very well be that we have lost some knowledge of host plants for this butterfly.
And please let me know here if you notice Black Swallowtails using any of these plants. It would be so exciting if we could regain the knowledge we have lost in this area.
If you can, please support the Lady Bird Johnson Wildflower Center. They do amazing work.