Last week I used a photo of a Black Swallowtail Butterfly in a post, which prompted one of my favorite Ecosystem Gardeners, Cindy Brown Ahern, to post this comment on Facebook:
This is such a beautiful creature, and YOU can do something as simple as planting parsley, dill, fennel, carrots in your garden to provide a food source for the caterpillars in addition to flowers to provide nectar for the adult butterfly!
Carrots, Parsley, Dill, Fennel, Queen Anne's Lace: not native
And this is a very true statement, Black Swallowtail caterpillars do, indeed, use all of these as host plants. But I started to wonder what these caterpillars ate BEFORE the European settlement when none of those plants were present in this country.
So I started to research this question. I paged through all of my butterfly gardening books, but each and every one of them said the same thing: "Black Swallowtails use members of the carrot family (Apiaceae) including parsley, fennel, dill, Queen Anne's Lace, and carrots."
Same story online, even at native plant society pages.
So, What IS Native?
Now I am nothing if not determined, so several hours later I FINALLY found the answer at the Lady Bird Johnson Wildflower Center. They have an amazing plants database which is searchable by plant family.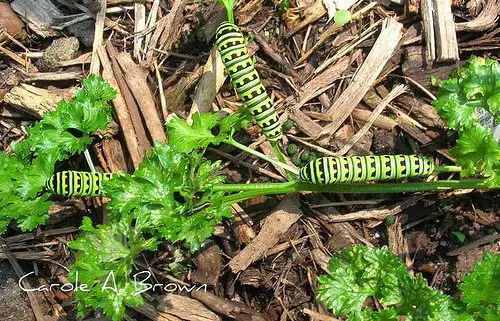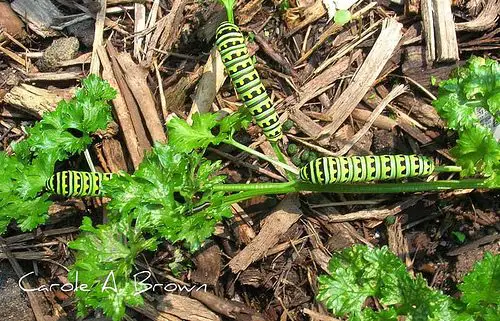 I searched on Apiaceae and discovered that there are 82 native members of this family, many of them endangered.
But, not all of them stated that they were a host plant for the Black Swallowtail. So I entered "Black Swallowtail host plant"
into the search box and ended up with three species:
Zizia aurea (Golden Alexander)
Polytaenia texana (Texas Prairie Parsley)
Polytaenia nutallii (Nuttall's Prairie Parsley)
This is a great start!
What to do now?
I am not suggesting that you stop planting parsley, dill, or carrots for the Black Swallowtails in your butterfly garden, but fennel can be a little aggressive in the garden, and Queen Anne's Lace is invasive in many areas (but is a main ingredient in many wildflower mixes which I call "meadow in a can"), so I'd avoid both of those.
AND, if any of the above native plants are appropriate to your site, add them to your garden.
ALSO, plant some of the other 82 native Apiaceae species and watch them diligently. If you notice Black Swallowtail caterpillars on any of those plants, take a photograph and send it to the Lady Bird Johnson Wildlflower Center. It may very well be that we have lost some knowledge of host plants for this butterfly.
And please let me know here if you notice Black Swallowtails using any of these plants. It would be so exciting if we could regain the knowledge we have lost in this area.
If you can, please support the Lady Bird Johnson Wildflower Center. They do amazing work.
If you're a fan of wildflowers and nature, the Lady Bird Johnson Wildflower Center is definitely worth checking out. Here's what you need to know:
Location: The center is located in Austin, Texas, and is surrounded by rolling hills and scenic vistas.
Mission: The center is dedicated to promoting the use and preservation of native wildflowers and plants. They work to educate the public about the importance of native plants and to encourage their use in landscaping and gardening.
Gardens: The center features a variety of gardens, including wildflower meadows, rock gardens, and themed gardens such as a butterfly garden and a hummingbird garden.
Trails: There are several trails that wind through the center, providing opportunities to see the plants and wildlife up close.
Research: The center is also a hub of scientific research, with experts working to better understand the role of native plants in the ecosystem.
Events: The center hosts a variety of events throughout the year, including workshops, lectures, and guided walks. There's always something happening, so check the schedule before you visit.
So if you're in the Austin area, the Lady Bird Johnson Wildflower Center is a great place to visit!
Leave Us Your Comments Below!
Click the Submit Your Comments button below to leave us your comments or questions!
Average rating:
46 reviews
Aug 19, 2022
Spicebush swallowtail
Greetings,

I bumped into your photo while looking for something on Google related to Eastern black swallowtails. In looking at your photo, it appears to be a Spicebush Swallowtail butterfly, not an EBS, in which case the host plants would be wrong. (The caterpillars in the post are indeed EBS.). Spicebush swallowtails, as the name implies, use spicebush as a larval host; they also use sassafras tree leaves. It's another cool swallowtail butterfly with the cutest caterpillars.
Aug 15, 2022
Great article
I just brought in three swallowtail caterpillars and gathered some Zizia aureus, dill, and fennel to go with the parsley they were on. I will add a large twig or two, that will rest at an angle in the aquarium so when they are ready to go into the cocoon stage they have something to attach to. They do the guy wire trick to look like a twig. If these are the ones that overwinter here they will not emerge til spring and I will put them in the barn and if they emerge then I will release them.
Jun 15, 2022
Black Swallowtail Caterpillar on Angelica
I found a black swallowtail caterpillar on my Angelica plant this morning. I ran in the house to ask Google if this is a host plant and that's when I found your article. Very helpful and informative. I'll be adding more Angelica and Golden Alexander to my garden. Thank you
Aug 13, 2021
Another native host plant is Osmorhiza claytonii
Aug 13, 2021
Black Swallowtails on Rue
Lovely black swallowtail caterpillars nibbling on a large, potted Rue plant in MD. The pot sits right between tall, bronze dill and a lush bin of new carrots. They seem to prefer the Rue. I read that swallowtail caterpillars eat Rue in native habitats, but never had them do it here.
Aug 9, 2021
Honewort
I have lots of honewort in my gardens and just this evening noticed a black swallowtail caterpillar munching away. It's a very subtle flower earlier in the year. I let it grow because it's happy here.
Jul 30, 2021
Black Swallowtail Larvae use honewort (Cryptotaenia canadensis)
Yesterday I saw a black swallowtail larvae eating honewort (Cryptotaenia canadensis) a plant in the carrot family native to the eastern US.
Jul 30, 2021
20+ Swallowtail caterpillars on our parsley!
We have about 20+ Swallowtail caterpillars on our parsley in our garden. We thought it would be fun to bring a couple in and put them in the butterfly net for the kids to watch the whole process. They are the coolest little guys and we've enjoyed watching them daily as they grow. Were in Charleston SC and learning all about the different pests and pollinators in the garden.
Jul 6, 2021
Spotted Caterpillar
I found a yellowtail caterpillar on my small potted parsley plant. He's having a feast. I'm going to have to replenish his meal. Thank you for the great information about butterflies.
Jun 27, 2021
Found on Rue
I found the black swallowtail catepillar on an herb I planted called Rue. I am in lower peninsula of MI in the Saginaw bay area. I bought the Rue plants because they were unique looking and the tag said "great for containers". I hope I get more catepillars like this!
Jun 11, 2021
Black swallowtail caterpillars
Exciting to start raising more species as I primarily raise Monarchs [released 700+ in the last 14 months]. I just returned home to find 5 Black Swallowtail caterpillars devoured my parsley plant here in SW Florida. Previously, I also had them eating on my key lime tree and fennel plants. I recently planted many parsley, fennel and dill to lure egg laying. The passionvine I grow attracts Zebra Haliconians, Gulf and Variegated Fritillary species. Any suggestions will be greatly appreciated. I'm trying to attract the Malachite, which used to thrive in SW Florida until some local hurricanes.
Sep 21, 2020
Believe it or not, I have black swallowtail caterpillars (3 total that I have seen so far) on my Meyer Lemon and Persian Lime trees right now, munching away. I knew giant swallowtails ate citrus, but I had no idea that black swallowtails do! I took video because no one I know believes they are actually eating them. lol
Aug 27, 2020
So glad you wrote this, and appreciate the comments. I'm in Long Island (NY), and have been wondering the same thing. Fascinating..... The swallowtail feed on Swamp Milkweed, not a host.
Oct 7, 2019
Not sure if I did the right thing, but I tried...
I found 5 swallowtail caterpillars on my carrots this weekend. Decided they could stay for a while to see what happened...but my carrot tops are pretty defoliated. Right next to the carrots is a parsley plant (where I assume they hatched because the carrots are new to the garden) so I moved them over, attached to the carrot tops they were eating. Hoping they will get a taste for the parsley, though I'm not sure of the variety. They can have it, but I wanted to try and save some carrots with another month to grow. Love seeing them get fat in my garden, regardless.
Aug 27, 2019
Nurturing swallowtail caterpillars
We have 11 swallowtail caterpillars that have eaten all of our parsley in a planter. There is also a little bit of cilantro but what can we feed them once the cilantro is gone. Can I just buy loose parsley and lay it in the planter? There's no room to plant more without disturbing the caterpillars.
Aug 26, 2019
Zizia is a host!
I just bought a Golden Alexander plant (Zizia) last week and had said the pot in the garden but hadn't planted it yet. I found 2 baby Black Swallowtail cats on it today! This is the reason I am replacing my plants with natives. Success!
Aug 21, 2019
Where the caterpillars go
I raise swallowtails and monarchs. As far as where the caterpillars disappear to....well, it is survival of the fittest out there. Left alone to fend for themselves, they can fall off the plant, fail to climb back on, and starve. They can also become dinner for ants and other insects. Wasps are some of the worst caterpillar predators...they pluck them off the plant. 🙁
Aug 7, 2019
Rattlesnake Master
Rattlesnake Master or Eryngium yuccifolium is another host plant for the Black Swallowtail butterfly. It's a member of the Parsley family. There is a lot of Prairie Parsley growing wild in the Austin, Travis County area and I have seen several Black Swallowtail caterpillars on them. I have photos too.
Aug 3, 2019
Chrysalis in lemon grass
The article and comments are very interesting. I had 8-10 caterpillars in my parsley until just this morning. Now I only find one caterpillar, but there's also a chrysalis attached to the lemon grass, which is right next to the parsley. Like other contributors, I'd like to know what happened to the rest and how to protect them.
Jul 25, 2019
Black swallowtail caterpillar host plant
I found a black swallowtail caterpillar on my sage plant today. Some of the leaves had been chewed.
Jul 21, 2019
Native food plants for Eastern Black Swallowtail
Hi, this article I found lists a number of native food plants for the Eastern Black Swallowtail. http://entnemdept.ufl.edu/creatures/bfly/bfly2/eastern_black_swallowtail.htm
Jul 20, 2019
Honewort!
I found some black swallowtails on honewort (Cryptotaenia canadensis). This is a native plant that is happy growing at woodland edges. I have lots of Queen Anne's Lace but have never found anything on these or the Zizia that I planted...just the honewort. I am in northern VA.
Jun 25, 2019
Black Swallowtail larvae host plants
My son and I made an interesting discovery after pulling a bunch of poison hemlock last week. We were looking at the pile of hemlock and discovered 6 black swallowtail caterpillars on it. One (slightly) redeeming feature of this awful plant. We moved the caterpillars to the parsley in our garden.
Jun 8, 2019
Black swallow tailed caterpillars
I have stumbled across three caterpillar on a hike recently i found them on the fennel plant i brought some home and have been observing there habits and watching them grow its been two weeks and they have already doubled in size although we do not have a garden (we live in an apartment) be we are right of tge coast and hike daily on out hike we pick fresh fennel for them its awsome i did have a question if anybody could help i have seen that they do love parsley would it be bad if i switched the host plant that they have been on
Jun 8, 2019
What eats black swallowtail caterpillars
What eats black swallowtail caterpillars?? Moved here three years ago and plan of the butterfly garden like we had back in Northeast. We've been very successful with getting black swallowtail's to lath eggs specially on our Dill. But after the caterpillars emerge and when they get to be about a quarter inch long they seem to all disappear how can we protect the small caterpillar's ? Are they being eaten by the geckos ? We found out if we don't remove them they will disappear so I'm assuming they are eaten… Please help
Sep 20, 2018
I have caterpillars on my rue plant and I am almost out. Now I know I can get parsley for them. Thanks for the information.
Aug 30, 2018
I'm in Southern Ohio near Hocking Hills and the native parsley plan is growing on my fence line. I have several swallowtail caterpillars on them and can send pictures if you email me an address!
Aug 22, 2018
Just found one on a peony leaf. Doesn't look as though it has been munching on it though.
Aug 19, 2018
swallowtails & goutweed
Just found 4 swallowtail butterfly caterpillars eating my much-hated goutweed!! Maybe there's something good about that plant after all. Goutweed apparently is in the carrot family.
Aug 6, 2018
citrus tree
I found several caterpillars on my satsuma tree today, they had already eaten quite a few leaves, but only the top, most tender ones!! Is this common?
Jul 27, 2018
Save the Parsley
Michigan: Just discovered and rescued 8 caterpillars eating away my curly leaf parsley plant. I did some research and they appear to be swallowtails. Is there anywhere to send a picture for confirmation?
Jul 19, 2018
No more parsley
Six black swallow tail caterpillars decimated my bushy parsley plant today in SE Georgia.
Jul 16, 2018
For the first time in my garden I saw a female black swallowtail on the purple coneflower and then it settled on a sumac for a while. Last week I saw a male on the anise hyssop.
Jul 12, 2018
Black Swallowtail Caterpillars
I have around 14 (and counting) black swallowtail caterpillars now. They started on my dill plant and have almost wiped it out. I have a cilantro plant planted behind the dill and I noticed this morning one had migrated to the cilantro. Hmmmmmm, who knew?
Jun 16, 2018
I live in Southwest Florida and I've been raising Monarch butterflies for four years..Since April 23, 2018, I have released about 40..they all came to me via the female laying her eggs on my Scarlett Milkweed..This year I've planted dill and the Black Swallowtails are loving it..I have them caged and will release them after the chrysalis stage or the wasps and anoles will get them..My seven year old grandson loves releasing the new butterflies..Thank you nature..
Jun 9, 2018
We use potted dill and rue (which is also used as a host for the giant swallowtail) to attract the eastern black swa?lowtail. Once we find eggs we snip off the leaf, and put them in a jar. Once the eggs hatch, we use golden Alexander leaves for food. My wife and I have never found larvae on the golden Alexander but they will readily eat its leaves when it hatches.
May 28, 2018
I bought some Rue for them on the advice of It's About Thyme employees and there are two on it now.
Sep 24, 2017
Black Swallowtail catapillars
The Black Swallowtail catapillars also feed off of Golden Alexander.
Aug 27, 2017
Informative article. It answers some questions.
Aug 9, 2017
Caterpillars
We plant parsley every year just to attract the caterpillars and black swallowtail butterfly. I can send pictures if you want.
Aug 5, 2017
Where do swallowtail caterpillars go to become a chrysalis? They leave my parsley. Or does a bird eat them off the parsley.?
Jun 26, 2017
Black Swallowtail caterpillars
I just found your site by querying "What caterpillars eat zinnia?"

I have a caterpillar on zizia aurea that I thought looked like a black swallowtail. Now I know it is one. Thank you!



To the person who does not want to lose her dill to caterpillars - plant more dill.

Could go purchase some Golden Alexander (Zizia Aurea) plants, or more dill or parsley plants (hopefully organic plants non neonicotinoid) and put them in your garden or in a pot outside and pick the leaf your caterpillars are on and put the leave on the new plants.



Or you can buy your dill for this year at a farmer's market and plant much more next year!
Jun 24, 2017
I just witnessed one of the caterpillars on my dill plant shedding it's skin!!



But i honestly don't know what to do with them
Jun 24, 2017
I have two of them
When i was looking at my dill plant, i saw a eastern black swallowtail caterpillar and moved it on my parsley. The next day, the whole parsley was gone and i couldn't find the caterpillar anywhere but when i looked at my dill plant, there were two more caterpillars...and now I don't now what to do with them because I don't want them eating my dill.
Jun 15, 2017
Saw a black swallowtail cat
I found a black swallowtail caterpillar today on some Queen Anne's Lace that I allowed to grow in my flowerbed. I also have dill (because I love the scent) and wild carrots in the same 20ftx35ft bed. I am researching a bit on the subject so I can educate my grandkids since they were with me when I found it. They watched it for about half an hour and were amazed! Sorry I did not get a pic. We are in Middle TN.
May 13, 2017
Zizia aurea host plant
I put Zizia aurea in about 5 years ago, last year was the first year I found black swallowtail larvae on them, but not until late in the summer, I think it was September. Hoping for more this year, last year was a tough year for butterflies all around it seemed.