I received with joy my copy of the new book Pollinators of Native Plants by Heather Holm, a contributing author for my team blog Native Plants and Wildlife Gardens.
I had the opportunity to ask several questions about how we can easily start to attract more native pollinators to our gardens, and you can read that at Why Bugs?
And I have written a profile of Heather where you can find out more about the many things she's up to at Heather Holm And Pollinators of Native Plants
Heather Holm has two passions: native plants and their pollinators, and she's combined these two loves into an incredibly informative and useful book that will help you choose the best plants for your wildlife garden to attract an abundance of native pollinators. She has effectively given us a botanical reference to native plants in conjunction with an entomological reference to native pollinators in one complete volume.
We all know that the honey bee is in trouble. But did you know that there are over 4000 species of native bees in the US? Did you also know that butterflies, beetles, flies, and other insects are also quite capable pollinators? And our native pollinators are in deep trouble too.
Heather Holm has written an amazing guide to pollination of native plants with so many gorgeous photos that you might be tempted to buy it just for the stunning photography, but you'll learn so much about how to "attract, observe, and identify pollinators with native plants" that your wildlife garden will become an oasis full of life, and aid in the conservation of these often overlooked native insects.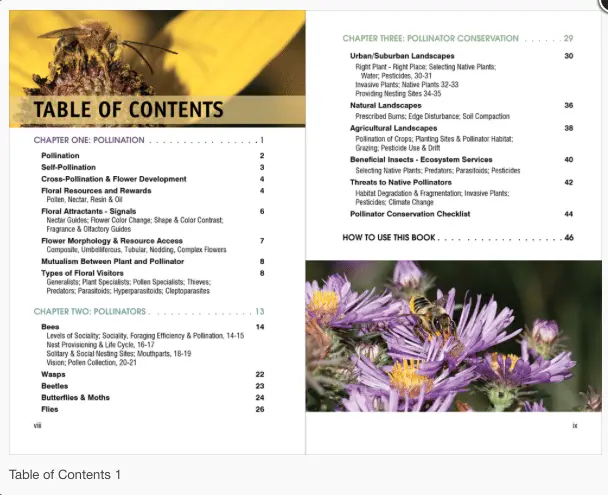 A peak inside Pollinators of Native Plants:
Chapter One is all about how pollination works from the parts of flowers involved in the process to the different types of pollination and the various ways that flowers have evolved to accomplish this task.
Chapter Two gives an in-depth look at the different kinds of pollinators: the many types of native bees and their specialized anatomy, wasps, flies, beetles, and butterflies and moths.
Chapter Three discusses pollinator conservation, and explains the many reasons why are native pollinators are in trouble, and gives extensive suggestions for how we can participate in conservation by creating the right kind of habitat in our gardens.
And then we get to the REALLY good stuff!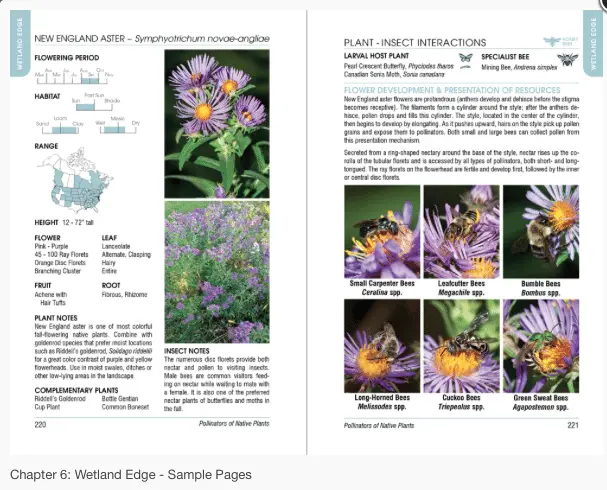 The next several sections have exhaustive information about each native plant, it's range, flowering time, planting notes, and complementary plants that will work well together. PLUS a guide to each different type of pollinator attracted to that plant.
There is an extensive plant list for:
Prairies
Woodland Edges
Wetland Edges
So no matter what type of habitat you have in your wildlife garden, you just flip to the appropriate section of Pollinators of Native Plants to help you choose the best native plants for the pollinators you'd like to attract.
This is followed by page after page of landscape plans that you can use. Pick the plan you like, and just follow the map and the list of plants to plant your new pollinator garden.
And finally there is a visual guide to each different type of pollinator to help you identify the beneficial insects you're bound to discover in your native plant pollinator garden.
Whether you're a beginner or someone who has lots of experience in creating welcoming habitat for wildlife in your garden you will find a ton of useful information in Pollinators of Native Plants.
And I bet you'll be inspired to grab your camera to document the pollinators you're now observing in your garden. You'll be able to look at your photos and use this book to help you identify these native insects. You're certain to spend much more time closely observing the interaction of these pollinators with your native plants. And you'll develop a deeper appreciation for these hard-working insects who provide so many benefits in your garden.
Pollinators of Native Plants is a must read for every gardener, and I highly recommend you add it to your bookshelf now. I'm absolutely positive I'll be referring to this book over and over again, and I'm sure you will as well.
Want to win a copy of Pollinators of Native Plants?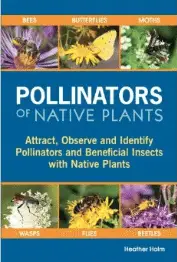 Heather Holm has generously donated a copy of Pollinators of Native Plants for me to give away to one lucky reader.
If you'd like to be entered, please leave a comment below and tell me what you're doing in your wildlife garden to attract more native pollinators. One of those commenters will be randomly chosen to receive this amazing book. The winners will be announced.
[Update: The winners of Pollinators of Native Plants are Gail Eichelberger and Kathy Sturr. Thanks so much for all of these fantastic ideas to attract more native pollinators to your wildlife garden!]
Ecosystem Gardening
Average rating:
0 reviews