Benefits of green roofs
Green roofs, also called ecoroofs, vegetated roofs, and living roofs, offer a more sustainable alternative than traditional roofs because they provide several important environmental and economic benefits:
They last up to twice as long as traditional roofs
They mitigate urban heat island effects
They provide an insulating layer to buildings, keeping them warmer in winter and cooler in summer, which decreases costs related to heating and cooling
The vegetation absorbs carbon dioxide and produces oxygen
They create habitats for wildlife
Green roofs in practice
Green roofs are very popular in Europe because their environmental benefits have been recognized there since the 70s. But it has only been in the last ten years or so that green roofs have begun to be utilized in the U. S. Several American cities, such as Portland, Chicago, and Washington D. C., have instituted incentive programs for developers who include green roofs in their new construction projects. The Home Depot Foundation, in February of 2007, gave a $300,000 grant to the non-profit organization, Green Roofs for Healthy Cities to foster green infrastructure in several other cities.
I, personally, would like to see Home Depot put its mouth where its money is. According to their corporate website, there are 2,274 Home Depot stores in the U. S. Each store has a roof approximately the size of a football field. Add to this the size of the enormous parking lot surrounding each of these stores, and that is a vast amount of impervious surface area. It is not just Home Depot either. There is a shopping center near my home which has a Lowes, Best Buy, Petsmart, Raymour & Flannigan, Target, Office Max, Bed, Bath & Beyond, Dicks Sporting Goods, Old Navy, Barnes & Noble, DSW Shoes, and a Giant grocery store. This site is over 100 acres, and all the space between the stores is a parking lot.
Imagine the decrease in stormwater runoff into our watersheds if every one of these stores all across the country installed a green roof! Or imagine if all of these facilities installed solar panels above their green roofs? We could make a significant contribution to renewable energy just from using all this space on top of these megastore roofs. Fortunately, I have found that I am not alone in this feeling. In a study funded by the
EPA and the Target corporation, low impact design standards for big box stores have been proposed. Alas, we cannot wait for this to happen, but instead must become responsible for our own small slice of land.
Installing a green roof
A green roof consists of several layers:
1) an insulation layer
2) a waterproof membrane
3) a drainage layer
4) a filter layer
5) a layer of growing medium. When installing a green roof, it is important to determine that the roof in question is structurally able to hold the additional weight of materials on top. Consult a structural engineer if you are in doubt.
Green roofs and wildlife
Resources for Green Roofs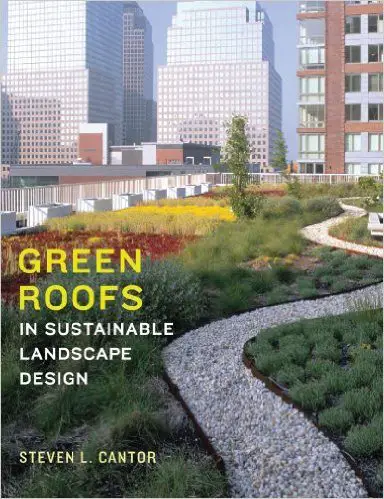 Green Roofs in Sustainable Landscape Design
Green roofs offer many aesthetic benefits as well as environmental ones. Landscape architect Steven Cantor gives the basic terminology of green roof design, defines the green roof types, reviews materials of construction and methods of installation, and explores sixty projects in detail, identifying the design process, the program for the project, and the specific application of green roof design and technology. He gives design professionals and students a thorough introduction to the applications and impacts of green roofs on the built environment and shows how they can be integrated into contemporary buildings as well as existing structures. Green roofs can be considered as integral elements of the potential design vocabulary that any designer might use—like water features, paving patterns or retaining walls—in the right setting with an appropriate budget and the support of a client.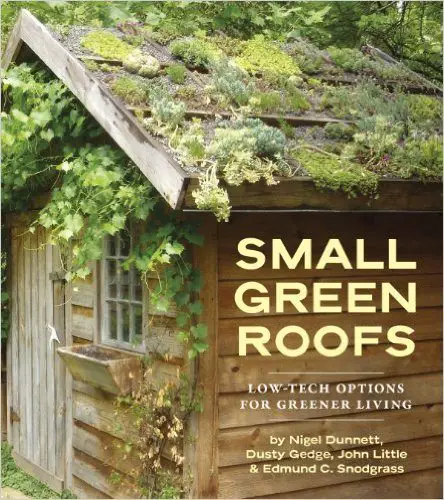 Small Green Roofs: Low Tech Options for Greener Living
Until now, the green roof movement has been limited to large-scale, professional endeavors and public buildings. But homeowners everywhere are catching onto the benefits of a green roof—water conservation, energy savings, and storm water management. In Small Green Roofs authors Dunnett, Gedge, Little, and Snodgrass profile ordinary homeowners who scaled green roofs down to the domestic level. Small Green Roofs is the first book to focus on small-scale and domestic green roofs. More than forty profiles of small and domestic-scale projects of all shapes and sizes include green roofs on sheds, garden offices, studios, garages, houses, bicycle sheds, and other small structures, as well as several community projects. For each project, details are given for design, construction, and installation, as well as how-to tips on how the roof was planted and cared for. For readers looking for inspiration when hiring a contractor or taking the adventurous step of building their own, Small Green Roofs provides the knowledge and encouragement to make it possible.
Average rating:
0 reviews