Wild birds need access to clean water all year round, but when winter temperatures dip into the freezing range, this may be harder to find. Birds can quench their thirst by eating snow, but this requires large amounts of energy which they need to keep themselves warm.
So what's a caring Ecosystem Gardener to do?
Well, one way is to train your birds by placing a shallow pan of warm water outside at the same time each day. Your resident Chickadees and other birds will learn to come at this schedule. You then bring the pan back inside when it freezes. Some very dedicated folks do this several times a day.
A step up from that is a solar-heated water dish, a plastic dish with a black lid and a small hole for sipping. The black color absorbs the heat of the sun and keeps the water from freezing, but only works until the temperature drops below 20 degrees.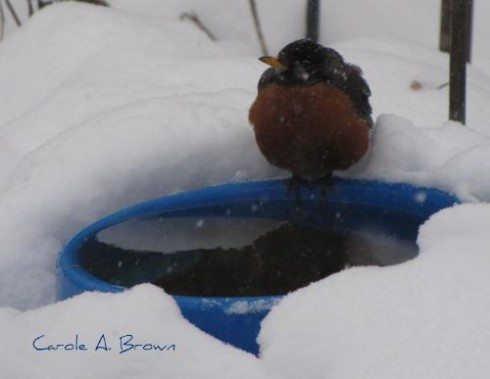 I use a heated dog bowl, which I've filled with a layer of stones to keep the water shallow enough for the birds. It only turns on when the temperature is near freezing, and automatically shuts off when either all the contents evaporate or the temperature rises.
There is a wide assortment of heated bird baths to suit almost any style. These operate on the same principles as my dog bowl, only turning on when the temperature falls.
But in reading Laura Erickson's new book, the Birdwatching Answer Book, I discovered that there is some concern that birds who bathe in these heated units may suffer from frozen feathers or loss of tail feathers when temperatures drop below 20 degrees. She recommends weaving a layer of sticks over the bath to allow birds to drink, but not to bathe.
Ecosystem Gardening
Average rating:
0 reviews